You may ask yourself why I should study for an information technology (IT) degree. What can I do with an IT degree? Is it worth it? What jobs can I get?
We will answer these questions and explain why becoming an IT professional or enhancing your knowledge and skills as an IT professional will provide you with a lifelong career where each day is different.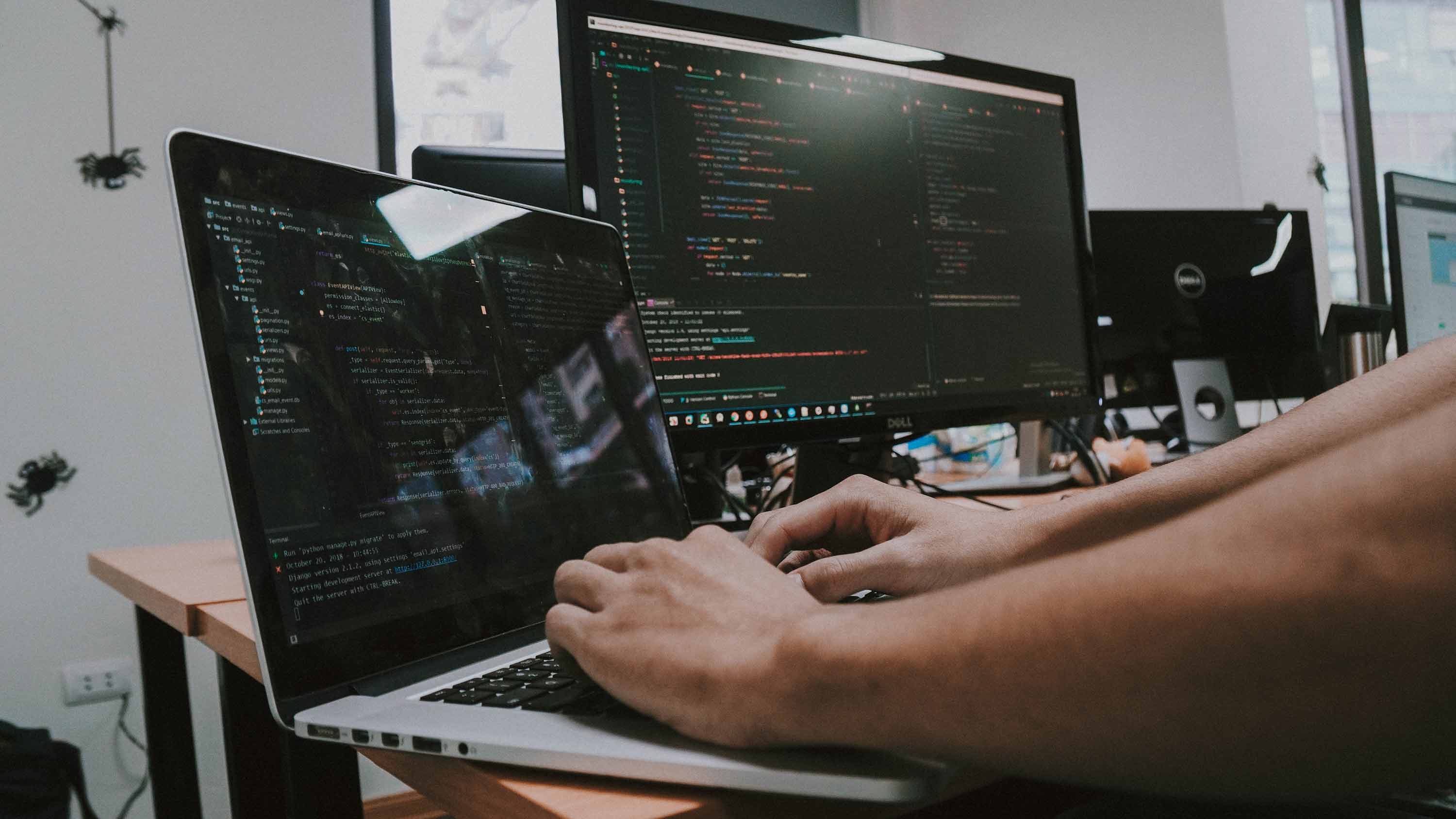 TOP 6 REASONS TO STUDY IT
1. It is an industry with professions in demand.
According to ACS Australia's Digital Pulse 2022, Australia will need over 1.2 million IT workers to fulfil our digital needs. Digital technology plays many crucial roles in our economy, such as enabling people to study and work from home and increasing overall productivity growth across industries such as mining, banking and manufacturing.
The IT sector now contributes approximately 8% to our nation's gross domestic product (GDP) which is equal to that of the mining industry!
2. IT professionals can work across many industries around the world
Technology powers business operations for all industries including retail, finance and education. Research conducted by PwC Australia reinforces the growing need for high-tech skills as businesses increasingly look to scale their digital infrastructure and operations. This is relevant for local and global companies. This is good news in terms of job security.
3. High earning potential
Your potential earning salary depends on several factors including the area of IT you want to pursue. Salaries for IT professionals are competitive. According to Salary Explorer, an IT professional in Australia can earn, on average $91,200 / year with the highest average being $149,000/year.
4. A focus on innovation
Technology is changing and advancing quickly so if you are excited about innovation, thrive in a fast-paced environment, enjoy collaborating with people on building new applications and frameworks, developing more efficient and user-friendly information systems, analysing data and enforcing cyber security then IT is the right fit for you.
5. Rewarding work
Technology can make the lives of people better. It can connect people, make ecosystems thrive, reduce emissions and protect livelihoods.
6. Every day is different
Each day in IT brings new problems to solve, ideas to develop, and tools to implement.
Luc Hennekens, CIO of Qantas
'You'll never get bored in this job'. [As CIO], 'you can drive truly exciting changes that help the business ahead. At the same time, you are covering every aspect of the business, so the diversity of the people and challenges you come across is fantastic. There are infinite possibilities, and that's a great position to be in.'
What you can do with an IT degree
A degree in information technology will open opportunities for various jobs in areas such as analytics, cyber security, web and mobile development and programming. These jobs include systems analyst, web administrator, software engineer, security architect and IT consultant.
It is no surprise that many of the jobs in high demand now and into the future relate to the technological revolution that continues to expand and innovate quickly. These roles include data specialist, software developer, web developer, AI (Artificial Intelligence) developer, and digital marketers. Digital skills are the foundation of the future workforce.
Is an IT degree worth it?
Work experience and skills are valuable in IT. Many companies such as Google have created their Academy with skill-building certificates to train people for certain roles. However, there are still advantages to attaining a degree.
Jobs in the tech industry often seek candidates with degrees (according to indeed.com).
Higher education institutes can help you with internship and networking opportunities.
Higher degrees are linked to higher incomes.


WHY STUDY IT AT KBS?
​​​​​​​
The 4 top reasons to study IT at KBS are:
Our program is focused on skills in demand
You will learn technical skills and soft skills
Practicality
Lifelong learning
2. YOU WILL LEARN TECHNICAL AND SOFT SKILLS
Kevin Angland, CIO of IAG (NZ), said, "There's never an absence of technical skills in an IT shop. Soft skills are the differentiator."
IT requires technical skills such as software programming, computer networking and data analysis. Still, according to Burning Glass Technologies - a software company that collects hundreds of millions of job postings and career transitions globally - soft skills comprised more than half of the Top 10 skills listed in IT job advertisements in 2021. The top soft skills were communication, teamwork/collaboration, problem solving and planning.
Our IT programs will teach essential technical skills, and our interactive workshops will help students develop soft skills such as Emotional Intelligence, Collaboration, and Communication.
ACS Australia's Digital Pulse 2022
'Employers are looking for technology workers who can bridge the gap between user needs and digital solutions and bring communication and collaboration skills as well as technical expertise to a role.'
3. PRACTICALITY
Our focus is putting knowledge into practice, not memorising large amounts of text and data: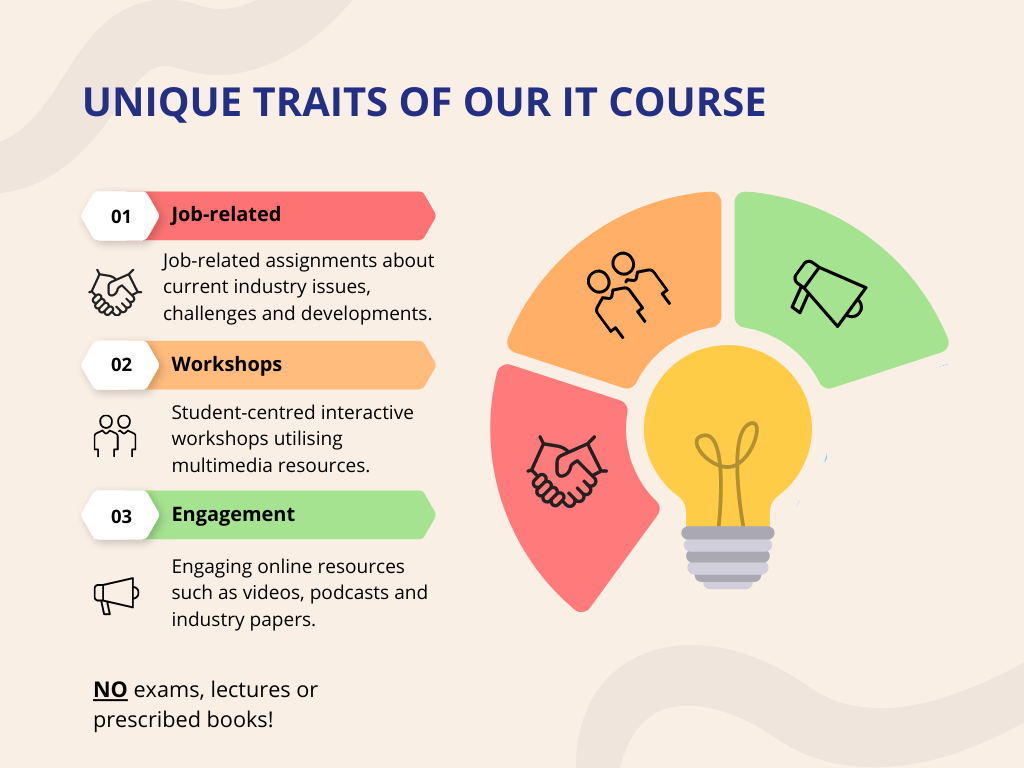 4. LIFELONG LEARNING
The world of digital technology moves quickly, and you must keep learning and upskilling throughout your career.
Every graduate of KBS will receive a lifetime of learning guarantee. This means that after you graduate, you can access all live online classes of the units relating to the course you graduated from. You can attend from anywhere in the world and at no cost. This will help you ensure that your knowledge and skills remain relevant.
We are the only institution in Australia that offers this guarantee. You can also access lifelong career coaching from our Careers Central team.
Future proof your career. Enrol in our new IT courses.