Student Ambassador Program
Overview of the program
The Student Ambassador Program is an exciting volunteer program designed to enhance your interpersonal, communication, leadership, marketing and accounting skills and improve the overall experience of the KBS student community. Ambassadors are presented with personal and professional development opportunities through student experience focused networking, event management and training activities. Student Ambassadors will work closely with the Student Experience team, Marketing team, Alumni Manager and Careers Central.
KBS Student Ambassadors provide a unique student perspective and are an integral part of the school. They help to create a sense of community and enhance student engagement across KBS campuses.
Who can become a Student Ambassador?
This voluntary, extra-curricular program is open to all current students who have successfully completed at least one trimester at KBS and have actively engaged with KBS outside the classroom. Interested students must apply and go through a selection process. Student Ambassadors can serve for a maximum duration of four trimesters of which they will be regularly assessed and will receive a review at the end of each trimester.
The qualities we look for in a Student Ambassador include:
Excellent communication and interpersonal skills
Confidence with a willingness to learn
Enthusiastic, friendly and approachable manner
Punctual, flexible and reliable
What is the role?
Student Ambassadors will be expected to:
Be a role model for prospective and current KBS students
Organise and run Student Ambassador led events online and on/off campus
Manage the Student Ambassador budget and record the spending throughout the trimester
Assist with major KBS events such as Orientation, Feedback Week and Graduation Promote and participate in trimester events to increase student participation and engagement
Work with the KBS Marketing team to create social media content as well as participate in social media competitions as required
Assist the KBS Student Recruitment team with various activities
Assist the Careers Central team promoting Careers workshops and events as required
Attend and assist with Alumni workshops and events
Attend monthly Student Ambassador meetings. These meetings are an opportunity to provide ideas and feedback to help enhance the student experience and community
Encourage, motivate and inspire students of all backgrounds to continue and complete their studies successfully
Be a peer mentor/tutor for fellow students, especially new students

What are the benefits for you?
You will be able to:
- Further develop your interpersonal, communication, leadership, marketing and accounting skills
- Implement new ideas and projects aimed at enhancing the KBS student experience
- Work in a team with your peers and other Student Ambassadors
- Develop a greater understanding of people whose life and backgrounds are different to yours
- Improve your employability and add relevant experiences to your resume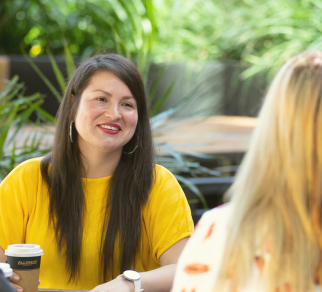 You will also be provided with:
A piece of KBS Student Ambassador exclusive merchandise
Personal and professional development training
Team building activities
One-on-one regular coaching session with our Careers Advisors
The opportunity to participate in events, workshops and parties exclusive for Student Ambassadors and/or graduates of KBS
A written reference from the Academic Dean or Campus Manager once you have completed your studies
End of year exclusive Student Ambassador 'thank you' function
How do I apply to become a Student Ambassador?
Email an Expression of Interest, including your CV and a statement outlining why you are interested in the role, to your local campus inbox. Please note, many successful applicants start as a Student Volunteer first.
What is it like to be a Student Ambassador?
Watch the video below to hear more about the experiences of three of our Student Ambassadors.