Looking for flexibility? At Kaplan Business School, you can now choose to study any of our undergraduate or postgraduate courses via online delivery mode. *
Your learning experience is our priority, so regardless of whether you study online, face-to-face, or a combination of both, you will continue to receive a world-class education with industry-leading student support. In fact, when the regulator was seeking an exemplar to co-produce a webinar series on how to successfully teach online, the only independent provider they selected was Kaplan Business School.
Find out below what the KBS study experience is like and all the support services you will have access to as part of our online community.

WHY STUDY ONLINE
Did you know? At Kaplan Business School, our online MBA receives the highest ratings in our student evaluation surveys of any KBS course – and that's consistent every trimester!
Studying online takes dedication and self-discipline, but it can also be an extremely engaging, stimulating and rewarding experience.
This is because, with online study, you have the benefit of:
FLEXIBILITY
Our flexible online teaching method means you can fit study around your busy schedule. Study 100% online or mix face-to-face with online subjects. Our engaging multi-modal learning platform is available 24/7. Attend the live weekly webinars or listen to the recorded versions later – it's all about what suits you!


SUPPORT
Studying online doesn't mean you're alone. In fact, you will have access to the same student support services as on-campus students. This includes our dedicated Student Experience team, Careers Central and Academic Success Centre. Plus, you will be connected to a network of over 500 online tutors who can provide guidance on a range of study skills and subjects.


ACCESSIBILITY
Our online learning platform features an easy-to-use, intuitive navigation system that will allow you to engage with a wide range of interactive learning materials including videos, podcasts, quizzes, forums and glossaries. All recommended readings are available to download without needing to purchase any textbooks.


INTERACTION
Enrich your skills by collaborating regularly through the lively interactive forums with other online students from all over the world. As a result, you'll be introduced to culturally diverse ideas that will add a global perspective to your learning experience.
You can apply with confidence knowing you can start and complete your studies online with Kaplan Business School. Every subject in every course that is offered face-to-face is also offered in online delivery mode. You may even choose for a blended learning experience, mixing face-to-face with online subjects.**
Some things to note:
As with face-to-face delivery, students should monitor subject availability to ensure they can progress with their tailored study plan.
DHA visa requirements may apply for international students so please visit Homeaffairs.gov.au for more information.
Please click here to explore our full range of courses.
HOW IT WORKS
It's simple! MyKBS will be your one-stop online learning platform for access to all your course content including subject outlines and assessment briefs.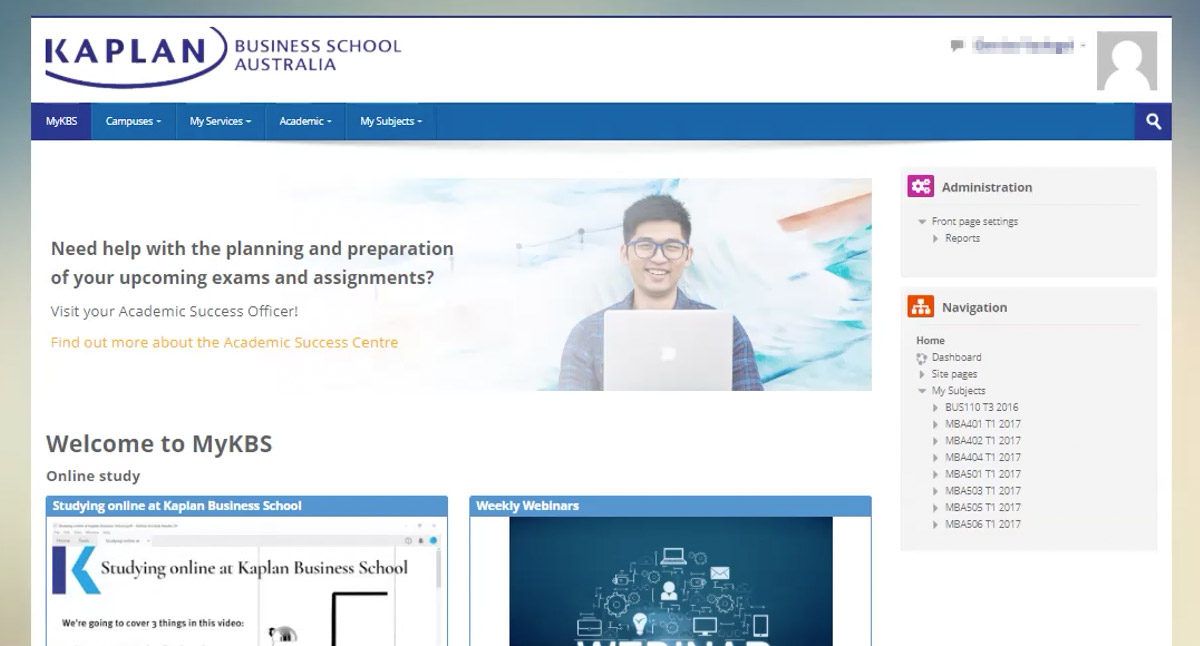 Here you'll also find links to live and recorded workshops and engage in a wide range of interactive online learning materials each week, available 24/7. For MBA students these materials include:
Videos
Podcasts
Quizzes
Interactive forums
Glossaries
Readings
If you are studying a different course, you will still have access to all the student support services (Careers Central, the Academic Success Centre and your Student Experience Officers). At the beginning of every week, your lecturer will post as a Subject Announcement a link to that week's live webinar. The webinar will be held via Zoom, which is the world's most reliable web conferencing platform. The unique link for each class will remain the same for every week of the trimester.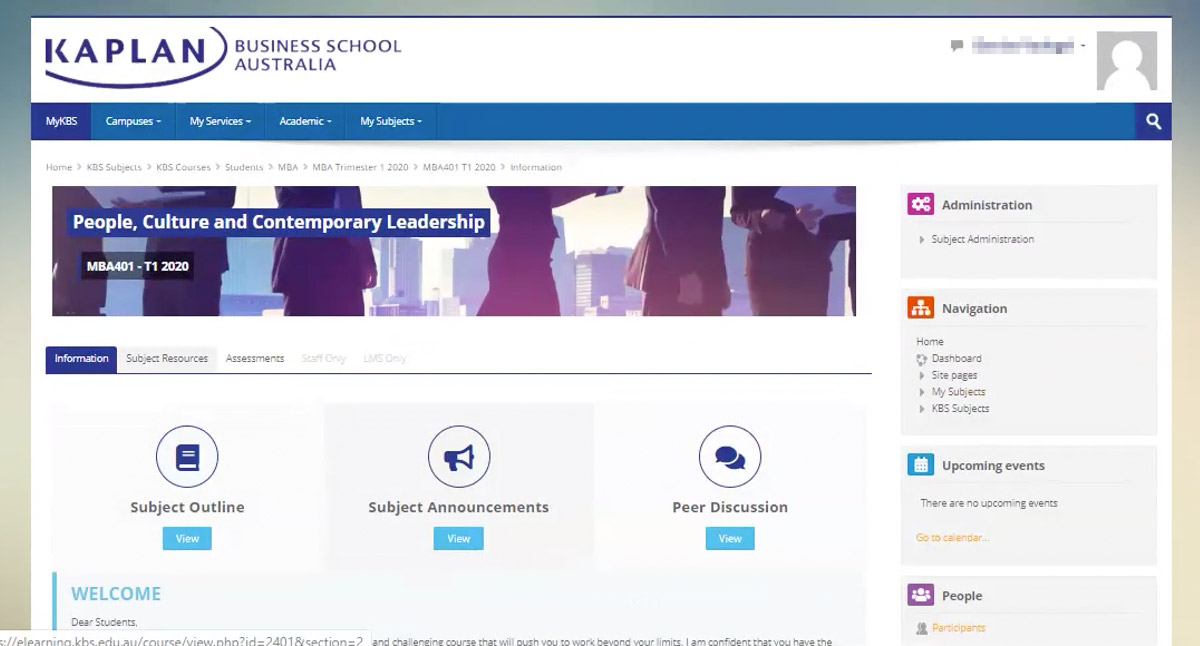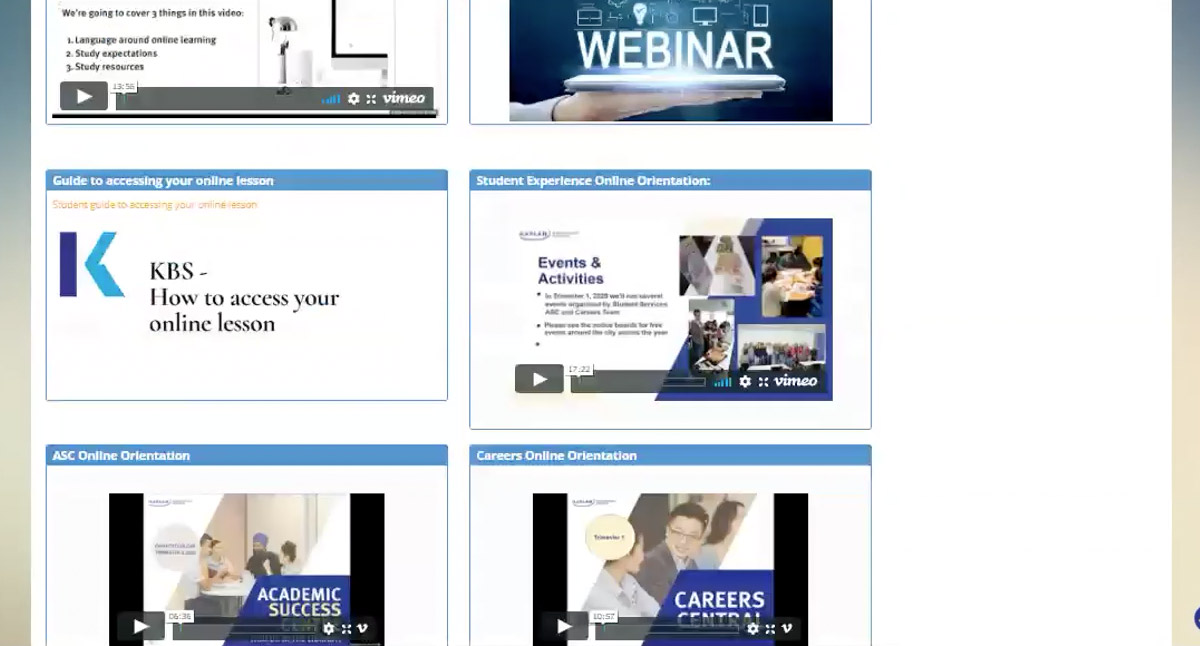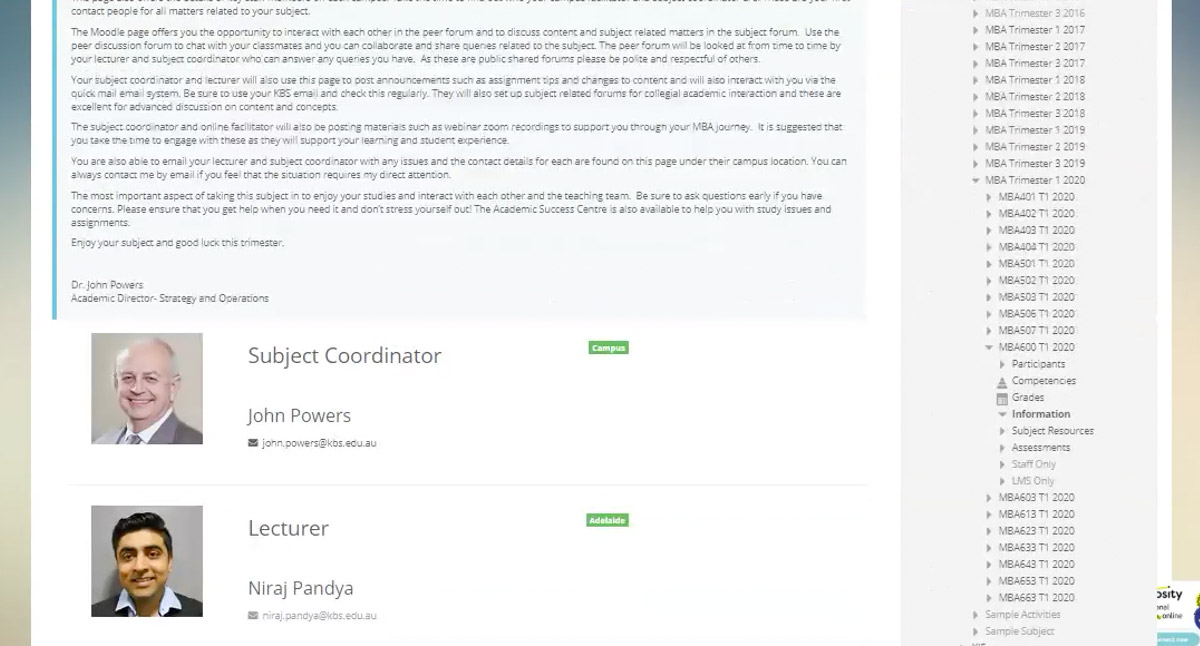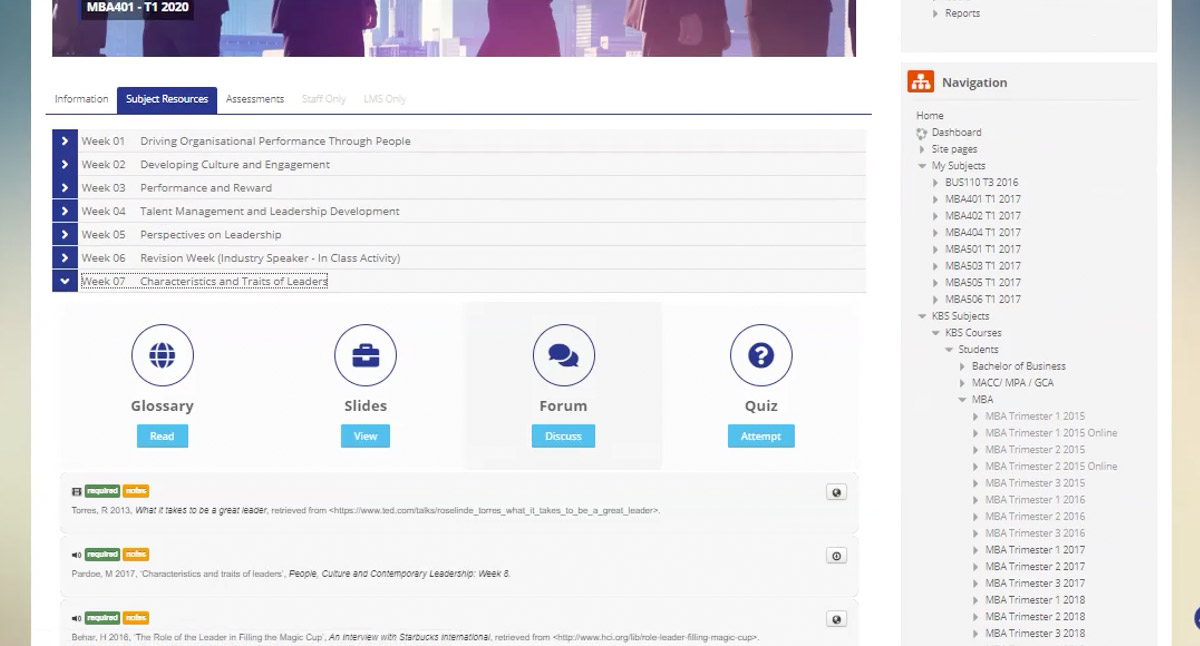 OUR ONLINE COMMUNITY
We know that feeling connected and supported is especially important for our online student community.
As part of your online student experience at KBS, you will have access to:
STUDENT EXPERIENCE OFFICERS
At KBS we pride ourselves on our student support services. In fact, Kaplan Business School was a finalist in the Student Support category at the PIEonneer Awards 2019. From the moment you enrol to graduation, you will be able to contact your Student Experience Officer via KHUB Live Chat to receive help on a range of topics.
ACADEMIC SUCCESS CENTRE
Your dedicated Learning Advisors are available to deliver personalised academic support sessions over the phone or online. This includes help with referencing, essay and report writing, presentation delivery, academic language skills and more.
SUBJECT FORUMS
Your lecturers and academic leaders are available to answer any questions you may have via your individual subject forums.
ONLINE LIBRARY
KBS has an extensive library of online resources and journal subscriptions, including the Harvard Business Collection which gives you access to more than 600 newly published e-books written by academics and business leaders.
CAREERS CENTRAL
We are extremely proud of our sector-leading Careers Central team and were delighted to have been recognised as 'highly commended' in the Employability International Impact category at the 2020 PIEoneer Awards.
Our Careers Advisors are available via phone or email to help you across a range of career services including employment opportunities and virtual internships. You will also have access to one-on-one career coaching and online workshops on topics such as resume writing and networking.
COUNSELLORS
You will have free access to confidential counselling appointments held either over the phone or online.
HOW TO SUCCEED
Follow these tips to keep you on track to succeed:
Attend an online orientation session when you enrol.
Try to set aside regular times to study each week or month so you can stay on top of the coursework. Remember, our Student Experience Team can help you set up an academic plan to guide you.
Try to attend and engage in your webinars as much as possible. It will give you the opportunity to ask questions live, and you'll meet some great people!
Make sure to ask for help if you need it.
We also have a great collection of blogs with advice and tips to help you get the most out of your online study experience. You can check some of them out here:
Studying online: 5 steps to success >
GETTING STARTED
If you have already decided which course you are interested in studying, please visit our Apply Now page to complete your application online.
If you have any further questions about our courses or how our online platform works, please contact us and we will be happy to assist you.
* If you are an international student wanting to study online in Australia, you may be aware that strict online study limits apply. For more information please visit https://immi.homeaffairs.gov.au/
** Subject to visa conditions and subject availability.