Australian Cover Letter Example
TO IMPRESS EMPLOYERS
Feeling overwhelmed about where to start with your cover letter? To help, we've developed an Australian cover letter example to guide you through, along with some handy guidelines for how to make yours stand out (in a good way!)
A cover letter is a half to one-page document that you include with your resume in your job application. And having one matters. In fact, according to a ResumeLab survey of more than 200 HR experts, 7 out of 10 recruiting managers would reject you without a cover letter.
Think of this as your sales pitch that will market your credentials, so it's important to make each word count. But it's not as simple as just listing out your skills and qualifications. Your job is to catch the eye of your employer and convince them that you can add value by tailoring your experience to match the company's needs.
DOS AND DON'TS FOR YOUR AUSTRALIAN COVER LETTER
When drafting your cover letter, you should always keep in mind the question the employer will be asking when reading it: 'why should I hire this person?'
Your letter should be persuasive, and focused on results/outcomes, but also honest and reflective of your genuine interest in the role.
Here are a few important dos and don'ts to consider before you get started: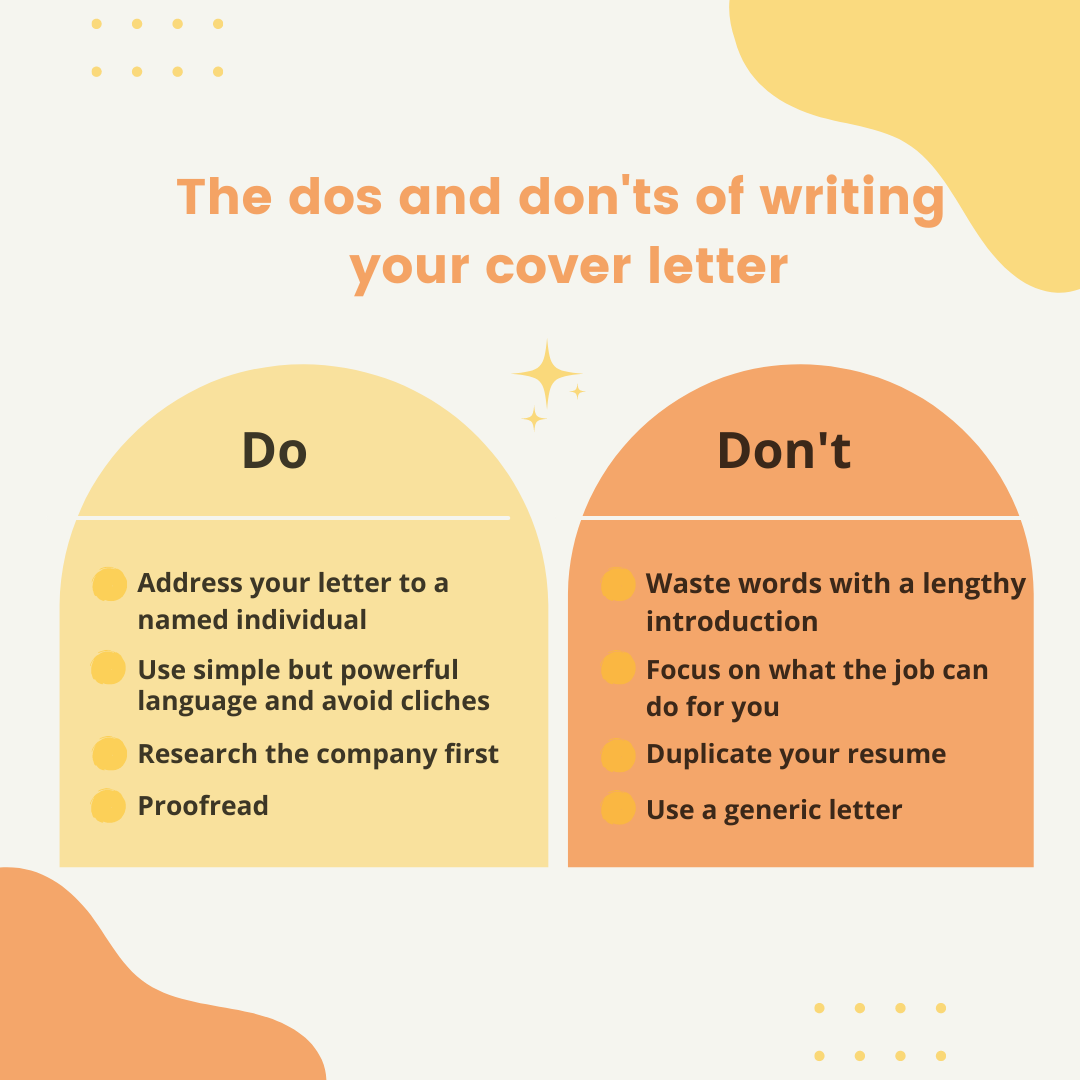 DO
Address your letter to a named individual
Try to avoid 'To whom it may concern' at all costs. Take the time to find out the hiring manager's name and title, either via the job listing, company website or LinkedIn.
Use simple but powerful language, short sentences and avoid cliches
Instead of using terms such as 'I'm a team player' or 'I'm the perfect fit', give specific examples that show this without needing to declare it with catchphrases the employer would have heard hundreds of times before. Remember the aim is to grab attention, engage the reader and give evidence to your skills and achievements as much as possible.
Tell the company how you can help
The employer wants to know how you can help them achieve their goals. That means researching them first via Google and their website to figure out their mission and goals. You also need to have a comprehensive understanding of the job description and what they're looking for. It can be helpful to go through it line by line and highlight key phrases, skills and requirements. Being informed before you start writing your cover letter will help shape what skills you need to focus on from your own experience.
Proofread for spelling and grammatical errors
Always review your cover letter and ask someone to look over it if you can. Perfect grammar shows care and attention to detail. Free tools such as Grammarly can help you gain confidence when editing your document.
DON'T
Waste words with a lengthy introduction
You don't need to start your letter with 'My name is...' as the employer already knows this from your signature. Remember you're trying to make every word count. The first couple of sentences are prime real estate and you could use it to:
express your passion for the role or company
list your most significant accomplishment
mention a mutual connection
include a personal mission statement
share relevant news about the company that shows you've done your research
Duplicate your resume
The idea of the cover letter isn't to copy and paste your resume, but to highlight certain sections and add value with concrete examples of your achievements and/or skills. It should work in partnership WITH your resume to create a powerful job application that reflects both your technical experience and education, as well as your skills, key achievements, personal attributes and passion for the role.
Focus on what the job can do for you
Although it's important that your goals align with the company's goals, this shouldn't be your sole focus. The cover letter is a chance to tell prospective employers who you are and showcase why they should hire you. They're looking at what transferrable skills you have that could help them achieve their goals.
Send the same generic letter to every employer
Sure, it's faster and easier to have a template letter ready to send out, but employers want to see your real passion for the specific role and company. A generic letter is easy to spot and could cost you the opportunity to progress to the interview stage.
KEY TIPS FOR EACH SECTION
Intro paragraph
Introduce your passion and interest in the role.
Make a bold and powerful statement about what makes you unique and the ideal candidate for this role.
List 2-3 skills you possess that are mentioned in the job application. Keep this paragraph short (2-4 sentences).
Body (2-3 paragraphs)
This is your chance to demonstrate how your skills are transferable and how they make you a great fit for the role.
Provide more details about the key experience/achievements/skills that make you the perfect candidate for this role.
Elaborate on the three to four skills you mentioned in the opening paragraph and highlight an accomplishment that best demonstrates each skill.
Use performance-focused and measurable descriptions and stick to the STAR format as much as possible.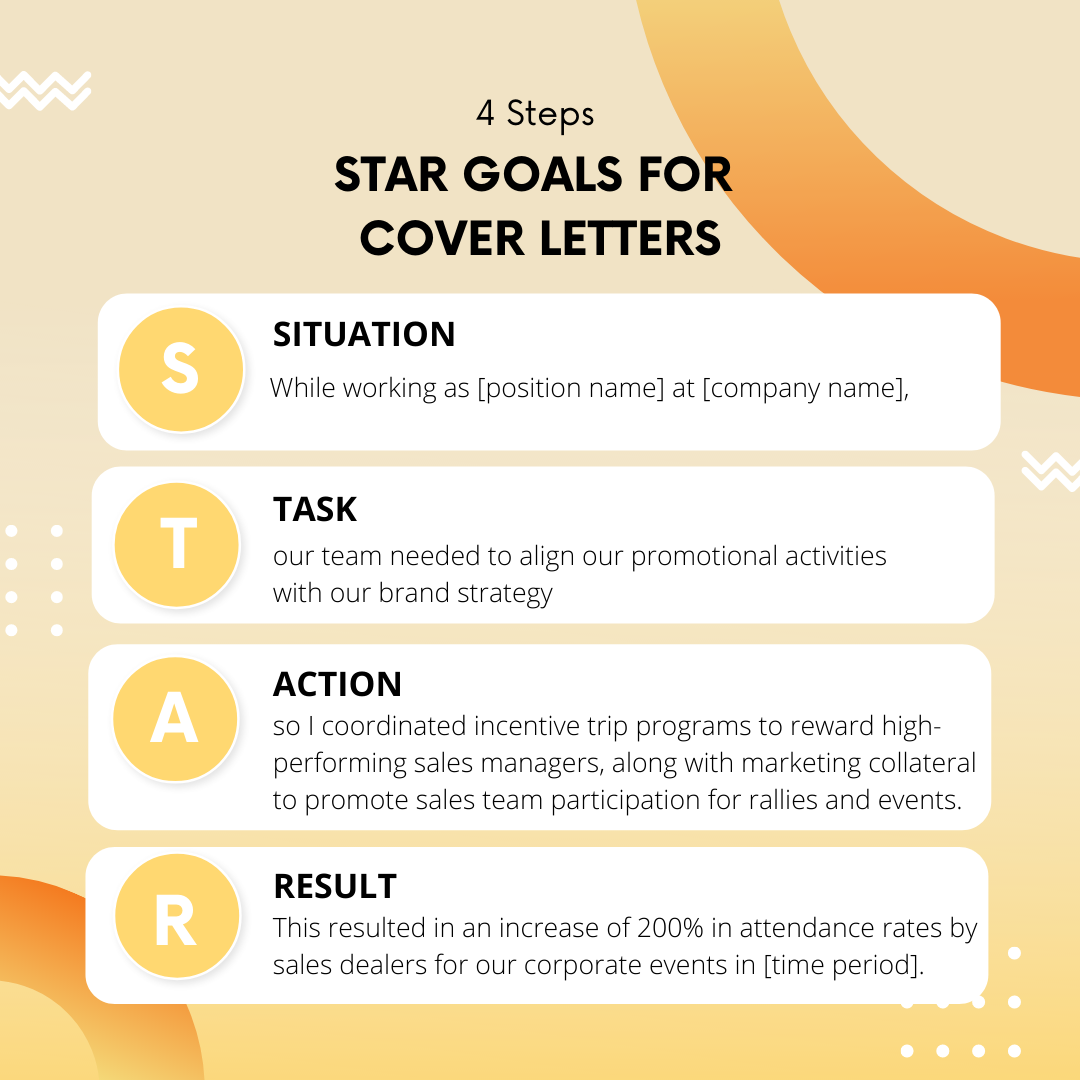 Closing paragraph
Demonstrate your knowledge of the company or industry and explain why your set of skills and experience would be transferrable and would provide value to the company.
Don't just copy sections of the company website. Instead, demonstrate that you've done your research and show the employer how motivated you are to get the position.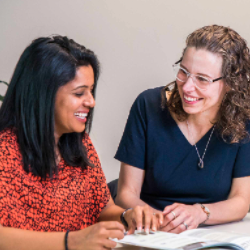 CAREER ADVICE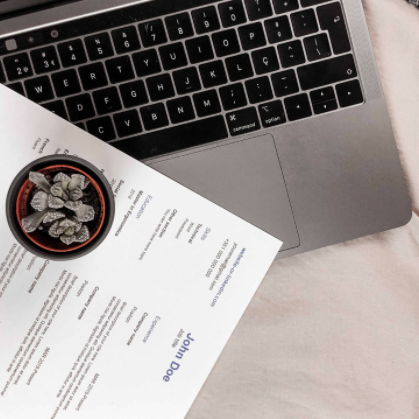 FREE TEMPLATE