Free Australian Resume Template
TO IMPRESS EMPLOYERS
Want to make your first impression count? Our Careers Central team has created a free Australian resume template as well as a list of top tips for international students new to the local job market.
Your resume should work for you; it needs to convey what makes you the right fit for a particular business and role. But how do you stand out from the hundreds of other resumes when a recruiter or employer might only spend an average of six to seven seconds scanning your document?
Following Australian industry standards is a good start. However, being succinct, professional, relevant and persuasive when sharing your experience, education and skills is what will get you noticed.
Kimberly Goh, a KBS Careers Advisors, talks about how you can build a winning resume that will get you interviews and the common mistakes to avoid.
DOS AND DON'TS FOR YOUR AUSTRALIAN RESUME
DOS:
Limit your resume to two pages in length
Keep your design simple and professional, with lots of white space.
Use a simple font like Arial in a font size (e.g 11-12 pt) that's easy to read.
Tailor your study and work experience to the role you're applying for.
Save in a commonly accepted format – Microsoft Word or PDF is recommended.
Use correct Australian English spelling and grammar. Grammarly is a great free tool you can use to check your writing.
DON'TS:
Include your photo or personal details such as your marital status, gender, race or age.
Use excessive formatting – avoid italics and underlining.
Include tables, images or graphs as many recruiters in Australia use Applicant Tracking System software when processing digital resumes, which doesn't recognise graphics.
Use an inappropriate email address – keep it simple and professional, and it should ideally include your first and last name.
Don't overcrowd your resume with experience that is over 10-15 years old or not relevant to the position you're applying for.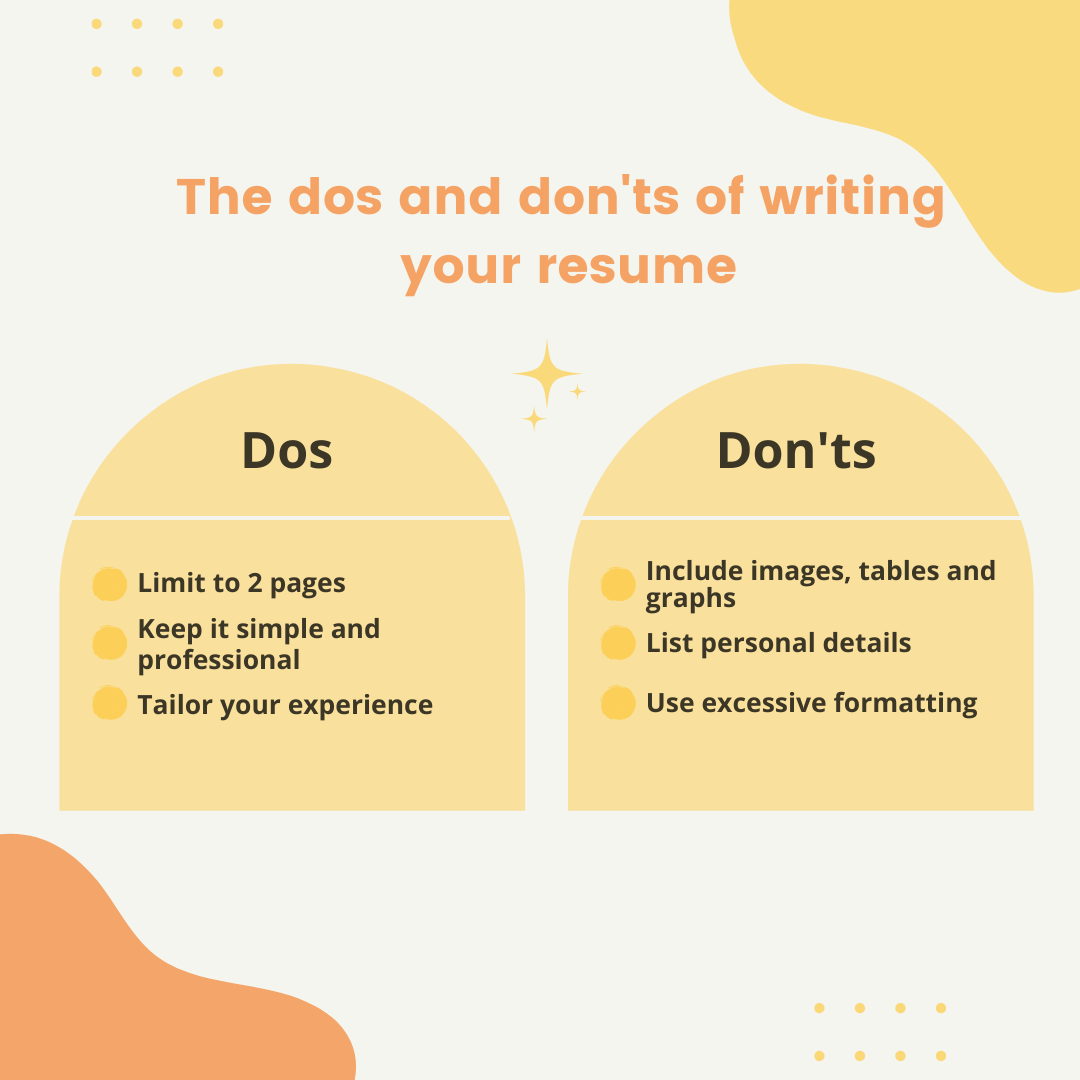 TOP TIPS FOR EACH SECTION
1. Contact details
These details should be highly visible and appear at the top of your resume. Ensure you have customised and hyperlinked your LinkedIn URL.
2. Profile
Use this section as an opportunity to communicate your career objectives and goals.
Include 2-3 sentences to highlight your supporting skills and experience.
Tailor your resume with keywords from the job description.
Example introductory sentence: Accounting manager with 6+ years of experience and a Master of Accounting qualification, seeking a senior role with a focus on stakeholder management and portfolio growth.
3. Education
Use reverse chronological order i.e. the most recent qualification first.
Include any special accreditations, scholarship awards, academic prizes or acknowledgements as bullet points underneath the relevant qualification.
4. Key skills
Identifying and using transferable skills can showcase that you're a strong candidate and a good cultural fit for a given organisation or team.
Soft skills
These refer to interpersonal attributes, and may include, but are not limited to:
Adaptability
Attention to detail
Teamwork
Communication
Creativity
Decision making
Leadership
Multitasking
Problem-solving
Time management
Hard skills
These refer to specific proficiencies and certifications that may be relevant to your industry. They may include, but are not limited to:
Languages spoken
IT proficiencies and systems
Accounting or bookkeeping
Computer programming languages
Exposure to inhouse systems
Project management
Research skills
Writing, editing and search engine optimisation (SEO) skills
Where relevant, concrete examples of how you gained this skill in a professional environment can add substance to your claim. For example Collaboration – Drove a successful partnership with Y as part of my role at Z, leading to an X% increase in sales that quarter.
5. Employment history
Use reverse chronological order i.e. list the most recent job first.
Don't include experience over 10 years.
Include a company description in the overview section in cases where the company may be unknown.
Describe your accomplishments in 3-4 bullet points. Each bullet point should focus on action words (created/managed/led/improved etc.) and the value you contributed. Include measurable results such as budgets, revenue, size of the team, number of reports, profits, etc.

For example, 'within an accounts receivable team of five members, managed portfolio ledger streams of over >$250k/month'.

Tailor your experience to the role you are applying for by using keywords from the job description.
6. References
Most companies will ask for 2-3 references from a candidate.
If your relationship with a reference is unclear or it's an unknown company, you may want to add a reference description underneath their contact details.
Make sure you've contacted your references for permission before submitting your resume.
TOP ADVICE FROM OUR CAREERS CENTRAL TEAM
What if I don't have a lot of experience yet?
If you're a student and your educational background is your strongest selling point, you can put your education section first. In place of experience, use your resume as an opportunity to highlight your initiative, commitment and educational achievement.
This might include:
education results
student engagement e.g., ambassador positions, research or project work
internship performance
volunteer engagements
extracurricular activities
professional memberships or affiliations
soft and technical skills
If you don't have any practical work experience in your field of study, an internship is a great way to gain this and looks impressive on a resume. Careers Central can help Kaplan Business School students secure valuable internships through our wide network of partner companies and organisations. Simply email us at: intern@kbs.edu.au.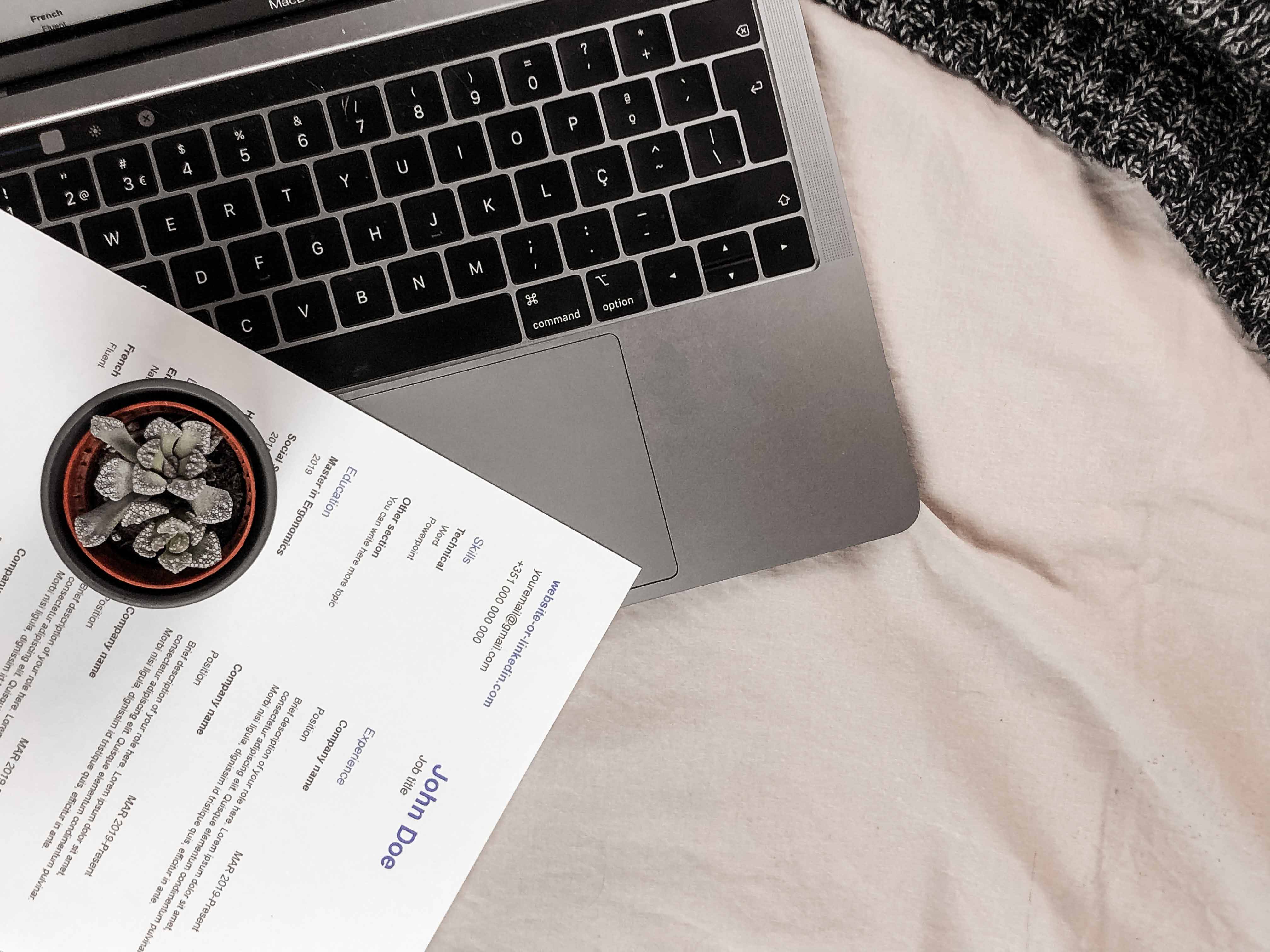 What if I'm struggling to write my career profile section?
We recommend you complete this section last as it requires a lot of thought, and the other parts of your resume can help to inform and clarify what you want to say.
The key thing to remember is that this section shouldn't just focus on what you want, but what value you can bring to your future employer.
A few handy guidelines:
The first bullet point or sentence of the summary should describe how much experience you have in the industry.
Review the job description and include keywords that align with your own skills. Quantify your skills by measuring the impact you've made in previous roles.
Aim for 2-3 sentences or three bullet points.
Anything else I need to know as an international student?
Immersing yourself in a new culture shows great resilience, adaptability and resourcefulness, so be confident about what you have to offer.
A few key tips:
Be in the know. Upskill and learn more about the Australian job market, industry trends and the appropriate resume writing standards.
Change international job titles in your work experience section to align with the appropriate Australian industry market-related job titles. For example: a Product Price Estimator role in Colombia is often called a Sales & Marketing Coordinator or Procurement Officer in Australia. Use SEEK search bar to research and determine the most appropriate job title names of your prior positions.
Don't sell yourself short. Use your skills section to profile your language fluency skills and any international work experience to highlight your expertise in different markets.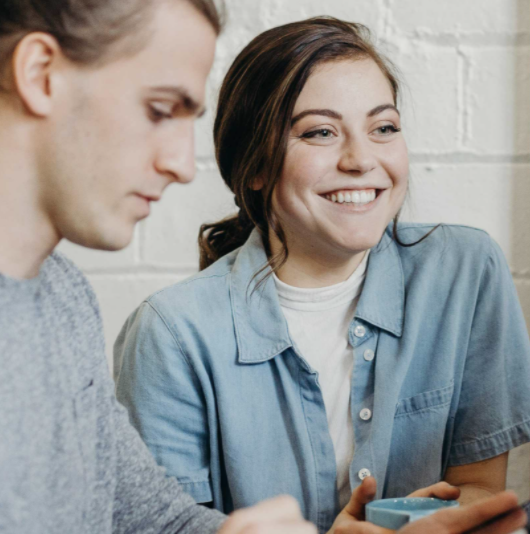 CAREER ADVICE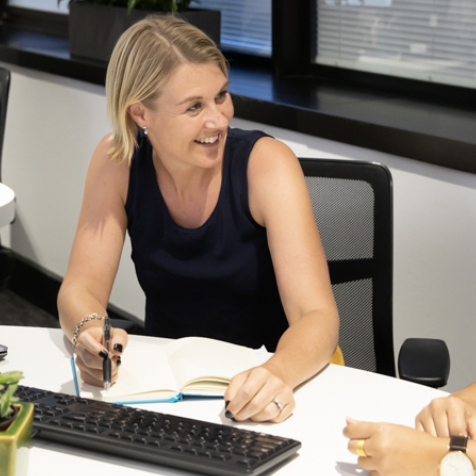 FIND A JOB