Breaking down barriers for people with disability
Breaking down barriers for people with disability
Emma Bennison, Chief Innovation Officer at Life Without Barriers
After graduating from the University of Queensland, like many people with disabilities, I struggled to find employment. Employers expressed countless negative assumptions about my capacity to work due to my blindness — everything from questioning how I would use a telephone to how I would navigate an office environment.
Eventually, I accepted an office administration traineeship with the Queensland Government which was unrelated to my qualification but was an opportunity to gain invaluable work experience.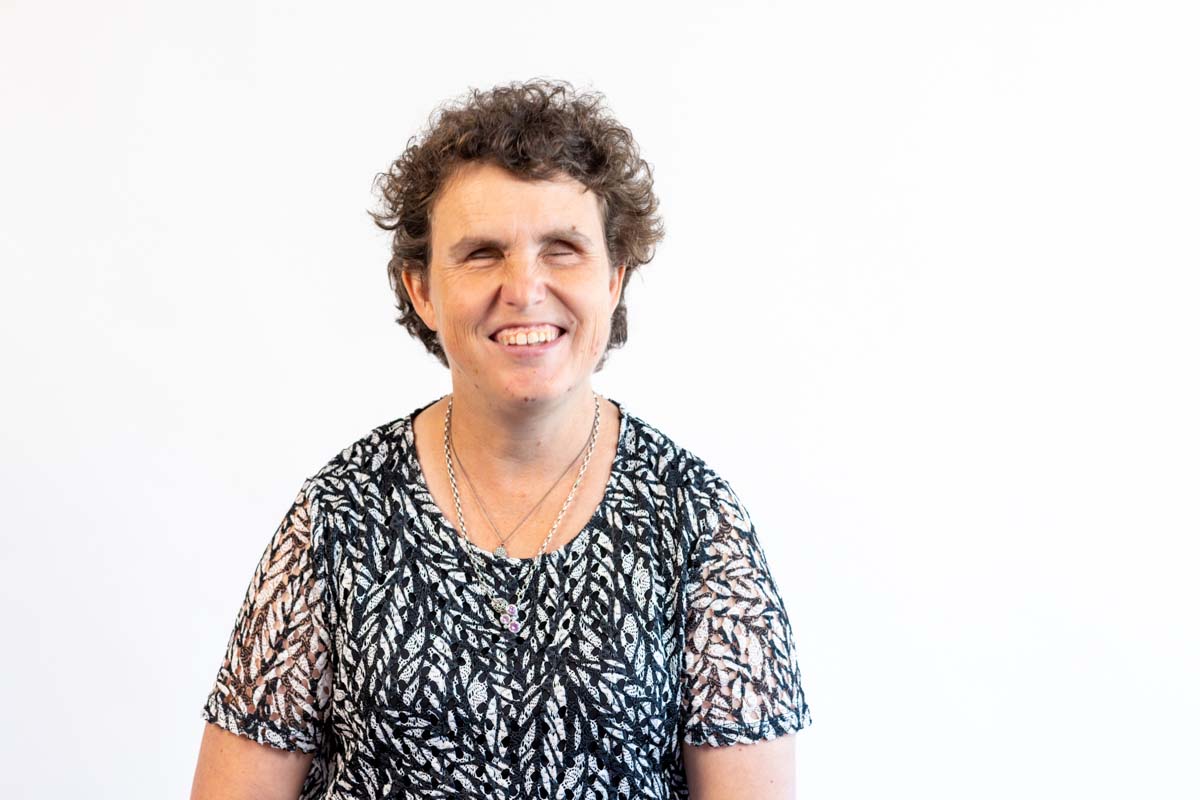 During this period, I also joined the board of Access Arts, (Queensland's arts and disability representative organisation), where I gained many insights into leadership and governance. Joining the board of an organisation that aligns with what your passionate about is something I recommend to all employees, but particularly those with leadership aspirations.
As an employee, it can be very tempting to complain about the work that's not being done or about what's not being managed well by boards and executive teams. It's not until you see it from a board member's perspective that you learn how challenging and complex organisational governance can be.
When the board appointed a new Executive Officer who was a person with a disability and invited me to join the staff team, I jumped at the opportunity to work with a disabled leader for the first time in my life.
The road to becoming a CEO
Over the next five years at Access Arts, I worked my way up from being the receptionist, (where I learned plenty about the internal and external aspects of the business), to middle management and ultimately, to becoming the CEO.
Over the next three years, I led Access Arts through a period of growth and development and left the organisation in a sustainable position with a strong reputation for delivering innovative arts and cultural programs for people with disability across Queensland.
After relocating to Hobart in 2012, I became the first person with disabilities to lead Arts Access Australia, our national arts and disability organisation. Though this was my second CEO role, I felt an enormous amount of pressure to succeed, given I encountered plenty of resistance to the notion of a person with a disability holding a CEO role at a national level.
Highlights included spearheading a campaign that resulted in The Australia Council for the Arts, (now rebranded as Creative Australia), providing dedicated funding rounds for artists with disability. We also built the capacity and visibility of disabled leaders in the arts and cultural sector and changed the perceptions of non-disabled people, so that they could begin to consider people with disability as potential leaders.
Subsequently, I was appointed CEO of Blind Citizens Australia, the national representative organisation of Australians who are blind or vision impaired. My tenure could best be summed up as transformative, as we shifted to a remote working model, (long before Covid made it fashionable to do so); we also significantly increased and diversified the organisation's revenue, successfully campaigned to get audio description on the ABC and SBS and created an open and transparent culture.
Life Without Barriers
After taking a break and then doing some freelance contract work, I joined Life Without Barriers, (one of Australia's largest providers of community services), to lead the organisations work in relation to increasing employment of people with disability. Since then, I have enthusiastically taken on the role of Chief Innovation Officer, where I continue to oversee the organisation's Access, Inclusion and Employment Plan, whilst leading organisation-wide innovation initiatives.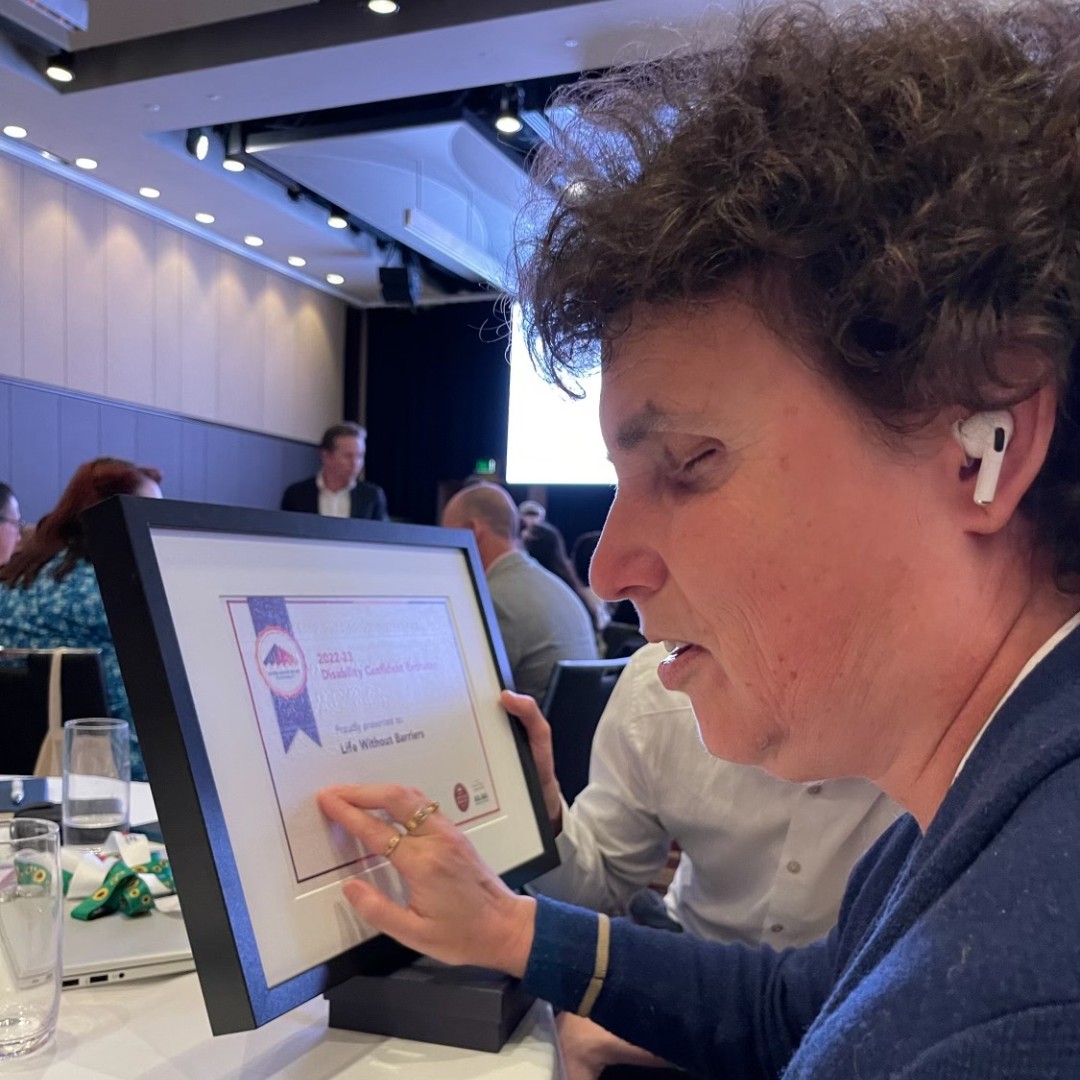 Why I'm passionate about employment of people with disability
We haven't increased disability employment significantly in 30 years despite many programs and increased funding. Why? There are several possible reasons, but the 3 most significant barriers I want to highlight are:

1. People's fear of saying or doing the wrong thing around people with disability
I understand that. Sometimes, when I meet people who are "different" from me, I have just as much fear as anybody, but we need to face up to that fear as a society. Don't avoid it or just talk about it.
Some employees find it hard to see me as a leader or are scared to work with me. I've always met that challenge by being as authentic as I can; to encourage compassion both ways and recognise that we're all human beings and need to learn from each other.
2. Employers seeing people with disability as inspirational or as people requiring help, instead of as potential employees
Employing more people with disabilities is not a problem we need to solve, it's a benefit we need to take advantage of. Companies are missing out on an incredible well of untapped talent. 1 in 5 of us has a disability.
I've worked with many gifted people with disabilities. When I was at Access Arts Australia, there was a stage when all our staff were people with disabilities. At Blind Citizens Australia, 75% of our staff were blind or vision impaired.
'Employing more people with disabilities is not a problem we need to solve, it's a benefit we need to take advantage of.'
3. Lack of people with disabilities in leadership roles
There's often a tendency to employ people with disabilities in lower-level roles because it's perceived to be less risky. We need to be measuring not just how many people with disability we're employing, but at what levels of our organisation.
Do they have a seat at the decision-making table? Do they have a voice? If not, then true equity will be impossible. People with disabilities may be less likely to purchase your products when they can't see themselves represented in your business or be unable to access your products and services because people with disabilities have not been involved in the product design.
My choice to study again after 30 years
I've led three small not-for-profit organisations and am now a senior leader in a large organisation. So, why did I decide to study an MBA?
If I was going to be able to continue to serve the community that I'm passionate about I needed to learn how to run the business differently and more efficiently than before.
People with disabilities need to be leading larger organisations and the providers that serve us to have more influence. I needed more credibility. The MBA will reassure others that I can do this job.
The Australian Scholarship Foundation offered full scholarships for further study specifically for leaders of non-for-profits (NFPs).
How KBS made the MBA accessible and inclusive
I chose Kaplan Business School (KBS) because it was partnering with the Australian Scholarship Foundation. It was a great decision because the way KBS supports students is truly unique.
When I was studying my undergraduate degree, the internet wasn't available. To do research, I would have to go with someone to the library. They would tell me the list of books available, read the contents page and I read the chapters I chose. It was a laborious and painful process. I used to get textbooks on cassette tape and my music scores in Braille but some of the material didn't arrive until after the exam!
I was concerned that studying would be difficult again, but it was completely different this time. The KBS staff asked me first how they could make the program more accessible for me, which saved me from having to advocate for myself.
KBS had an online portal where I could access all the reading material and library resources with a screen reader. All the lecture recordings were online so I could listen outside my work schedule. Some of the lecturers provided detailed descriptions of their PowerPoint slides and graphics.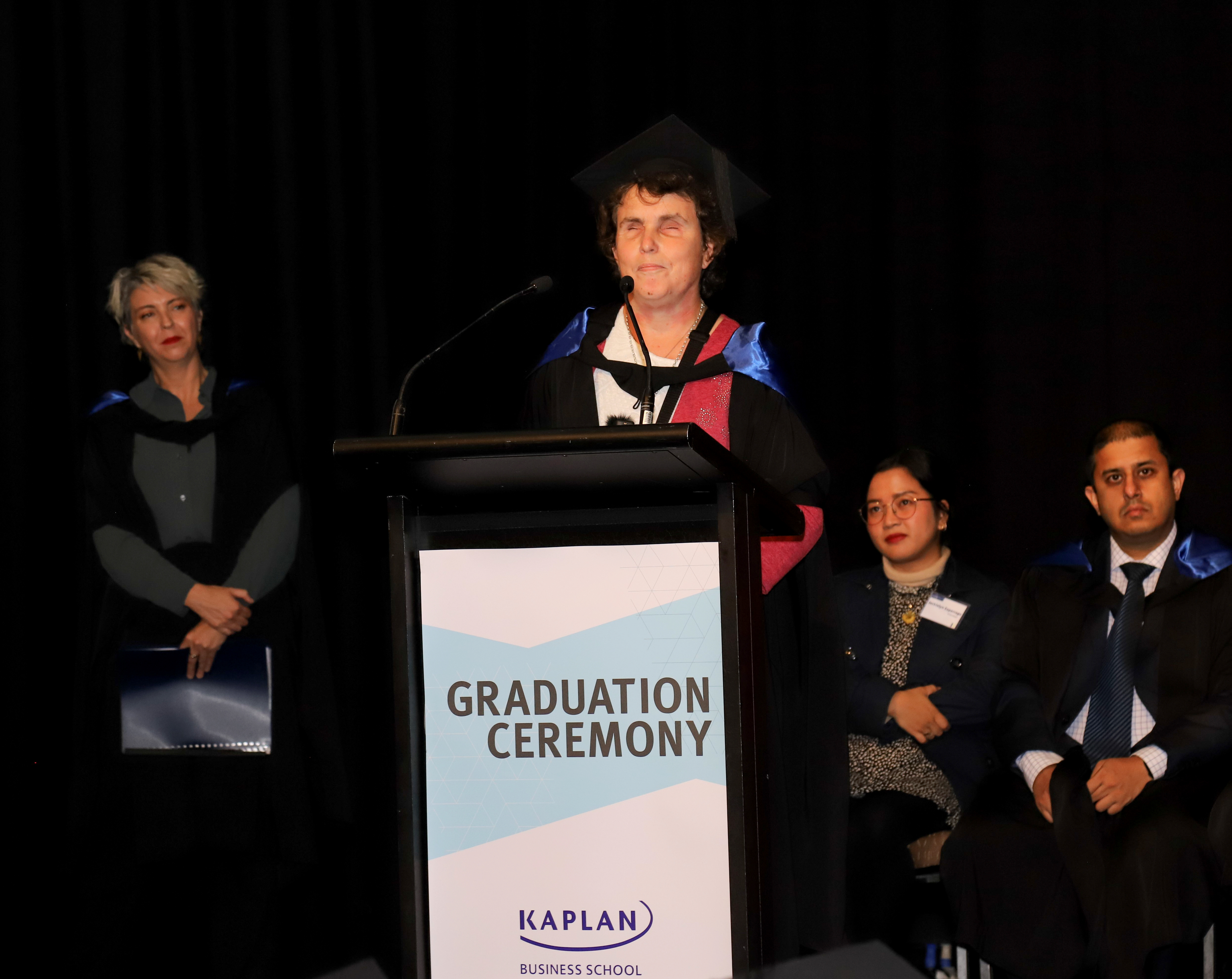 My tips on succeeding academically

1. If you haven't studied for a long time, take advantage of the help that's being offered
I used the Academic Success Centre at KBS. When I completed my first assessment, I asked for feedback and the Learning Advisor replied, 'You've done an amazing job of researching this organisation, but you haven't backed it up with enough theory.'
It reminded me about the differences between business and academic writing, where all claims need to be backed up by theory and evidence. I took the advice and received a good result for my assessment.

2. Talk to your lecturers - they are a valuable resource
When I was attending lectures, some students were intimidated by the knowledge and skill of their lecturer. Try to find the courage to ask them questions or email them. They are approachable and an incredible resource.
3. Always attend or listen to the recording of the assessment overview session before you do your assessment.
Never assume you know what the lecturer means. Listen or re-listen to their lecture recording. You will get more clarity on theory and assessments.
Applying what I learned from the MBA
Since completing the MBA, my approach to work has changed. Everything from new ideas, project management, my leadership style, and how I help others is imbued with more certainty because I understand the theory behind it.
Completing the MBA has given me an increased level of self-confidence. It was incredibly challenging at times to get it done. There were moments when I wanted to quit. But now that I've graduated, I am very proud that I stayed the course.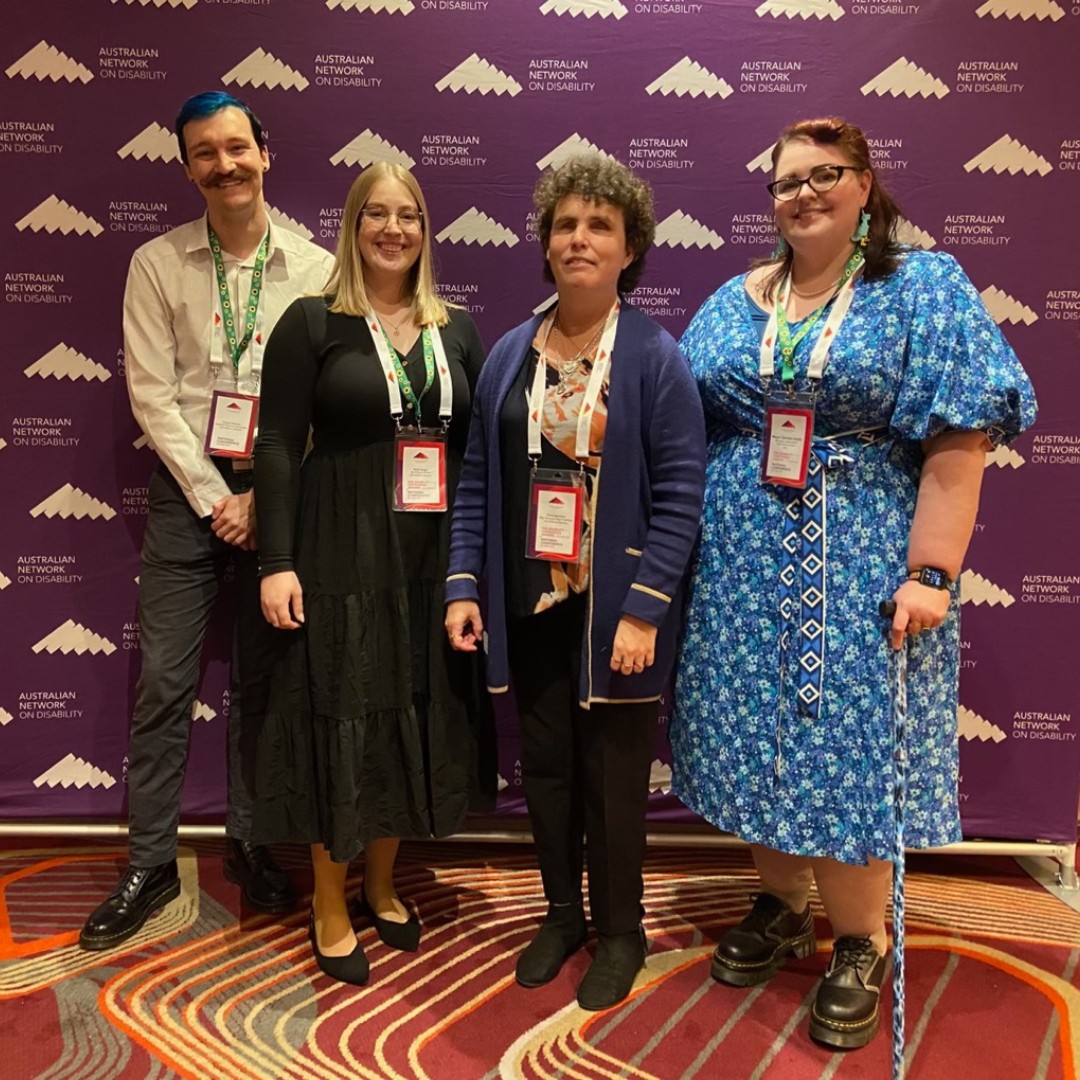 My future goal
My main goal is to do the work that I'm passionate about, in a way that that brings people along with me on the journey.
I'm very excited about the work that we're doing at Life Without Barriers which is breaking down attitudinal barriers and influencing organisations to benefit from the unique perspectives and problem-solving strategies people with disability bring to the workplace.

Want to connect with Emma?
You can find her on
LinkedIn
.
Invest in your career progression. Find out more about studying an MBA at KBS as well as the support services we provide to help you achieve your career goals.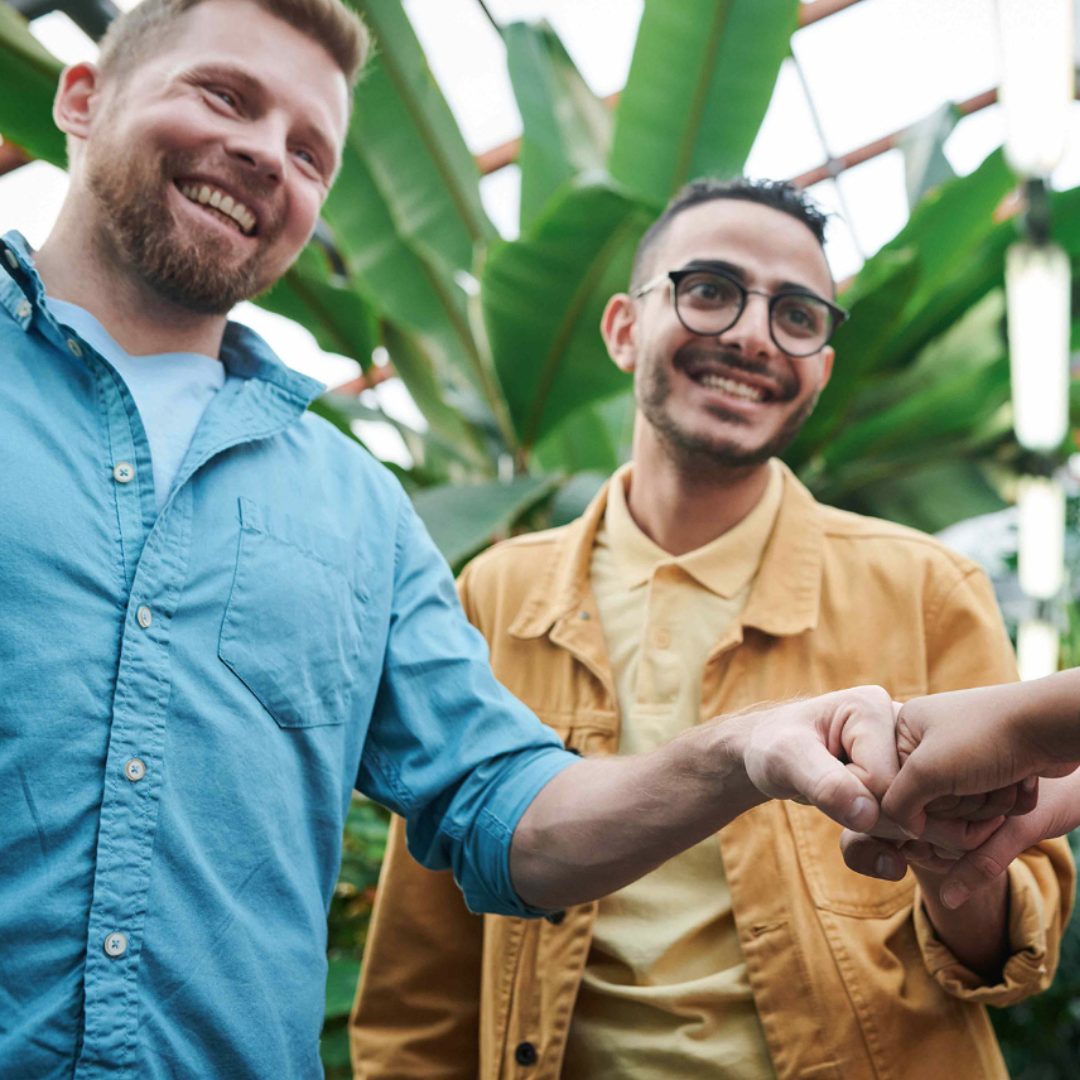 MBA SCHOLARSHIPS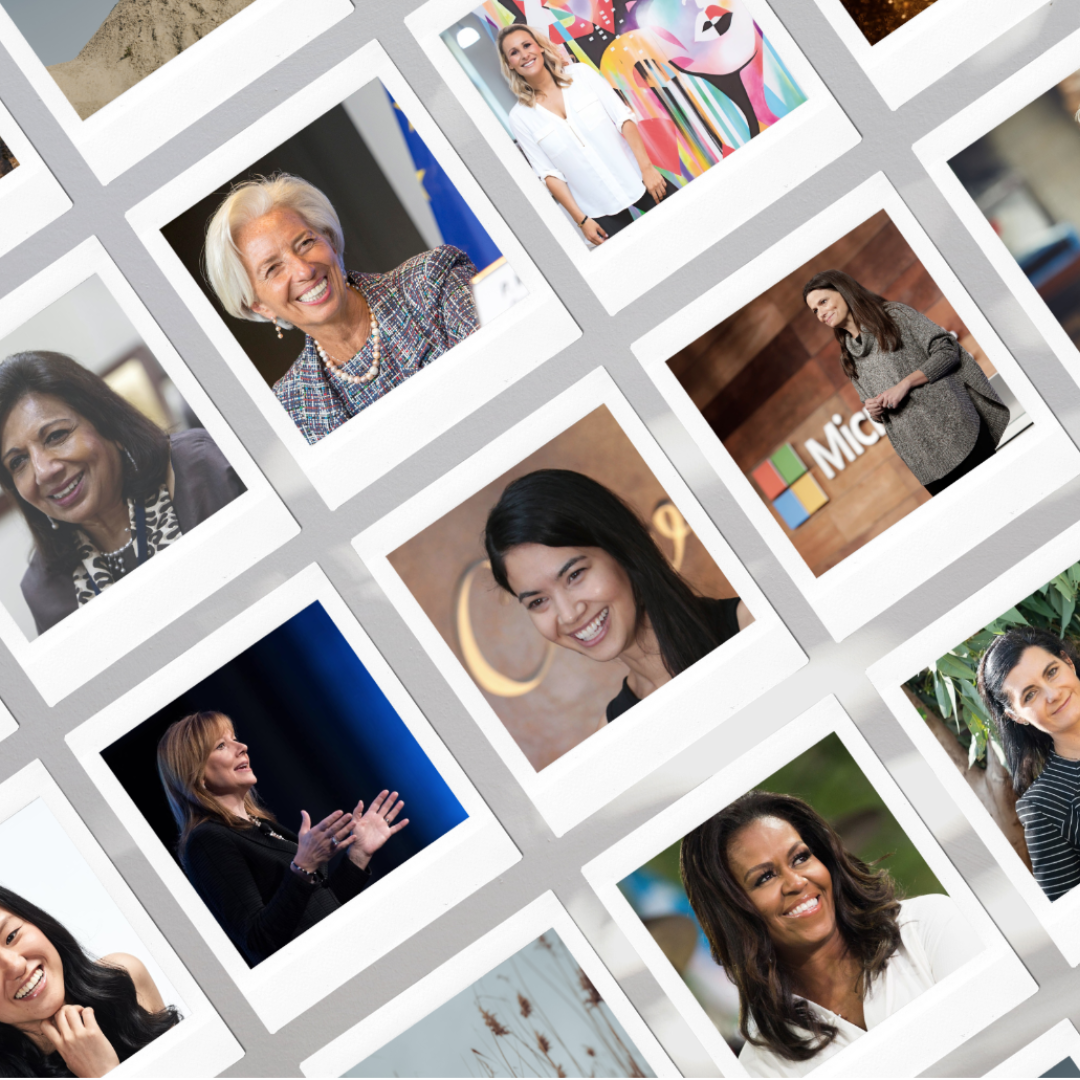 WOMEN LEADERS