Business networking in Australia
Business networking in Australia
How to be confident in building connections
Business networking can unnerve even an experienced professional. But if you're a student in Australia trying to adapt to a new country, work culture and language, it can be especially daunting.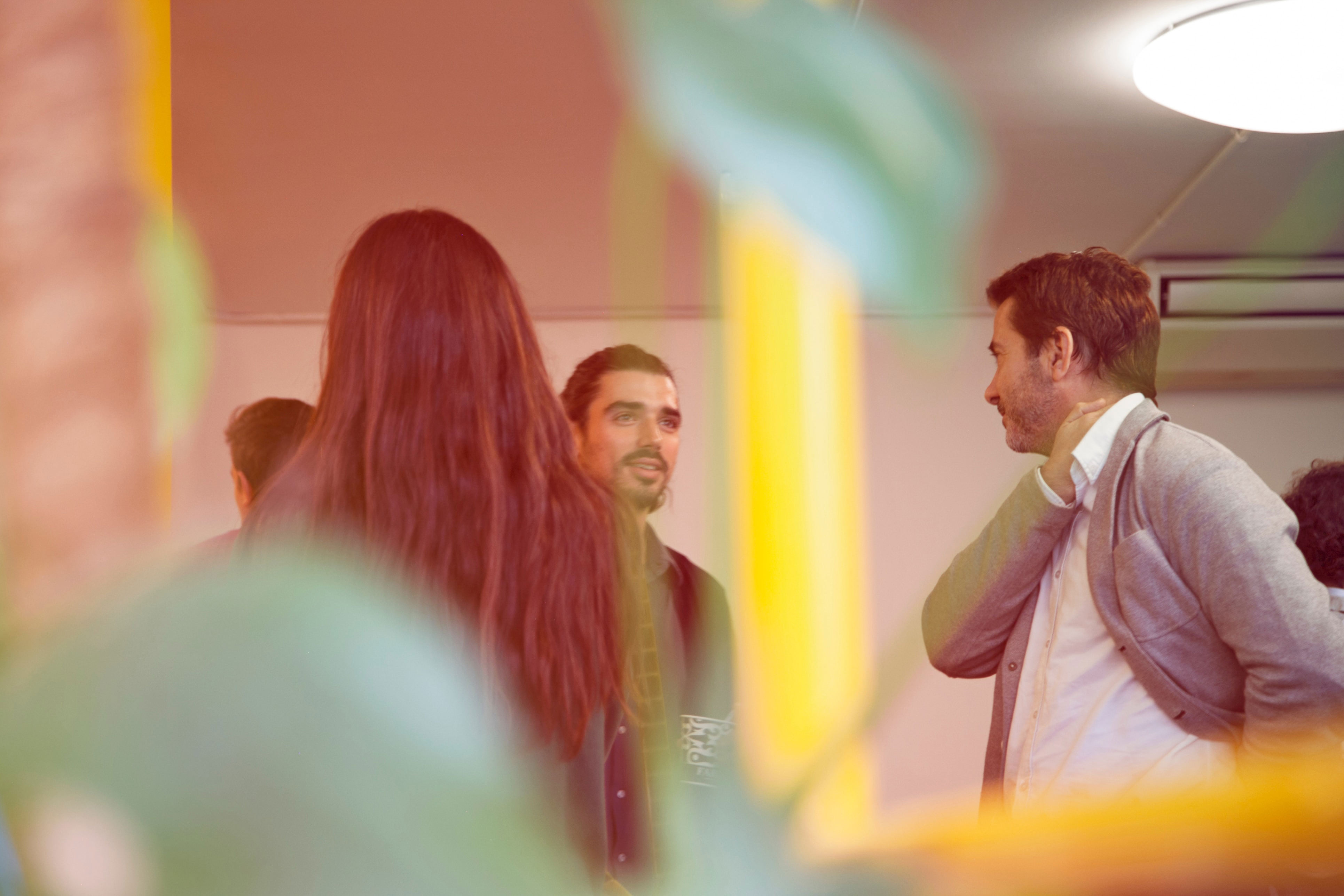 MBA student at Kaplan Business School (KBS), Giselle Machado, can relate.
"People are afraid of the unknown. A difference in culture, language, and many other variables tend to appear as a barrier." – Giselle Machado, Brazilian, MBA
Although putting yourself in an unfamiliar situation can be challenging – the potential benefits of business networking are a strong motivator. In fact, a LinkedIn study revealed that up to 85% of all jobs are filled via networking.
Business networking can lead to connections, interviews and job opportunities. It's a great forum to exchange information and improve communication and social skills. It also gives you the chance to learn more about your industry and where you can see yourself fitting in.
Giselle knows first-hand the success that can come from business networking when you have the right skills and support in place.
Holding a master's in computer science from Brazil, Giselle was keen to build her connections in the technology space when she first began studying her MBA at KBS Sydney. Working with the Careers Central team at KBS and taking her own initiative, she slowly grew her networking portfolio. It was through a contact made at an industry event that she secured a lead and was offered a job opportunity as a PHP developer and data analyst.
Here, she shares 5 business networking tips that helped build her confidence:
1. Make sure you're attending networking events and accessing opportunities that meet your career goals
Staying in touch with your university or business school careers service is a great way to receive expert guidance on the type of events you should be attending based on your industry interests, career goals and experience.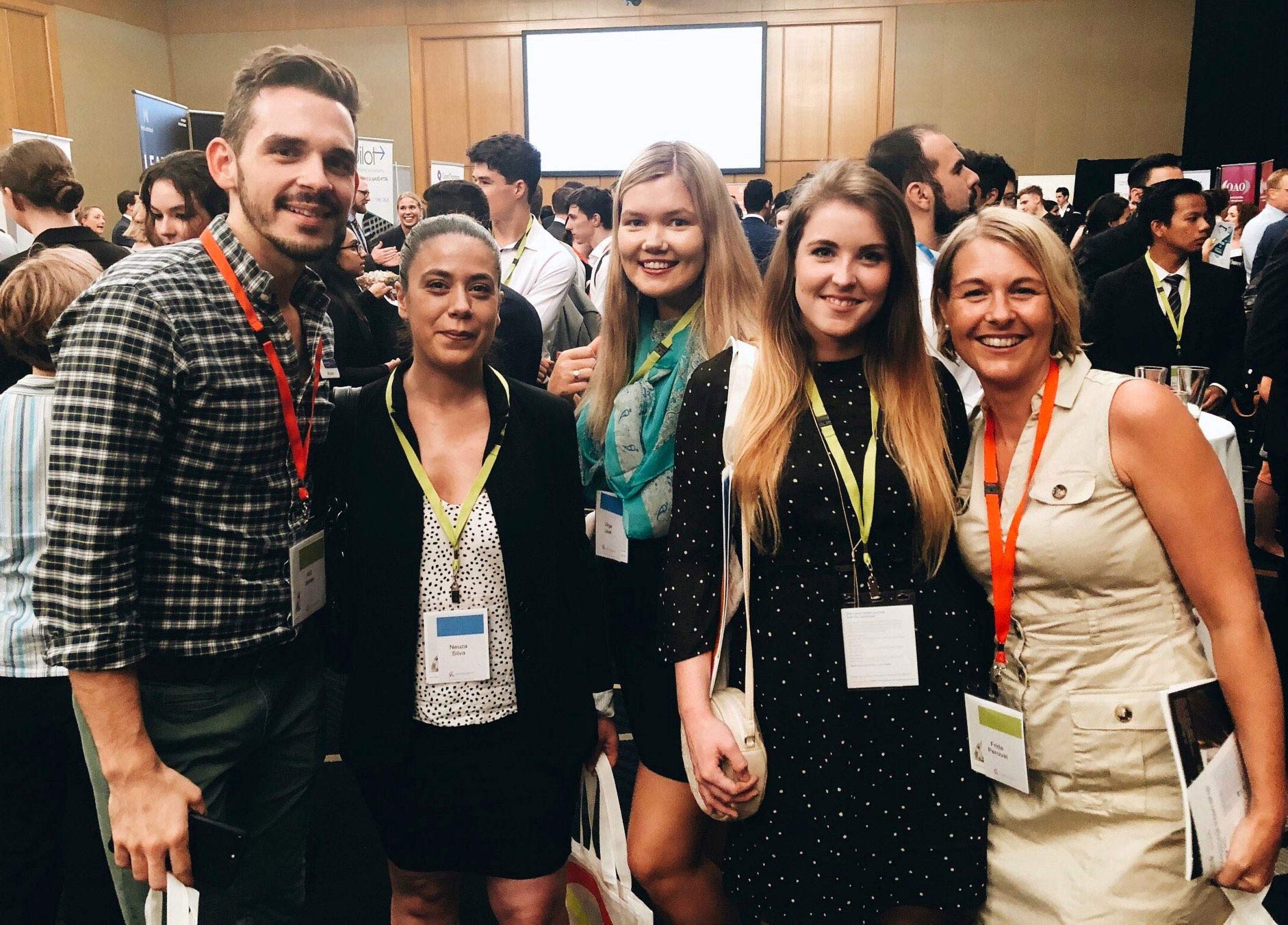 National Employment Expo with Chartered Accountants Australia & New Zealand (CA ANZ)
Meeting with Careers Central at KBS gave Giselle the 'insider advantage' to help build many meaningful employment connections in Australia. Her career advisor, Kieran, supported her in navigating the local job market and recommended valuable and relevant networking events. This automatically gave her the confidence that she was in the right place, and in a position to build connections with the right people.
A quality business school careers service will have access to exclusive work experience and volunteering opportunities, which is rich avenue to meet other professionals in your industry.
For example, KBS organised for 10 students to volunteer at the annual Business Chicks 9 to Thrive Summit, an event that brought together hundreds of organisations and women in senior leadership positions from across Australia. By volunteering at the event, students made a wide variety of professional contacts. Three KBS students secured paid employment with the organisations they volunteered with. Many more will commence internships over the coming months.
Through Careers Central, Giselle was also able to complete a three-month work experience internship with Davidson. This opportunity helped her to meet other professionals and gain local experience and referees. This was key to increasing her employability as an international student in Australia.
There are many different types of networking events/forums that you can explore:
Industry events
These tend to be large-scale events that focus on a specific industry. For example, Giselle attended CEBIT 2018 which connects technology professionals from enterprises, SMEs, start-ups and government. In fact, Careers Central organised for 12 KBS students to exclusively attend this event. Of those, nine students received paid employment directly from organisations they met at the event, or from employers they were introduced to via networking.
KBS students at CEBIT Australia 2018
(Giselle pictured right)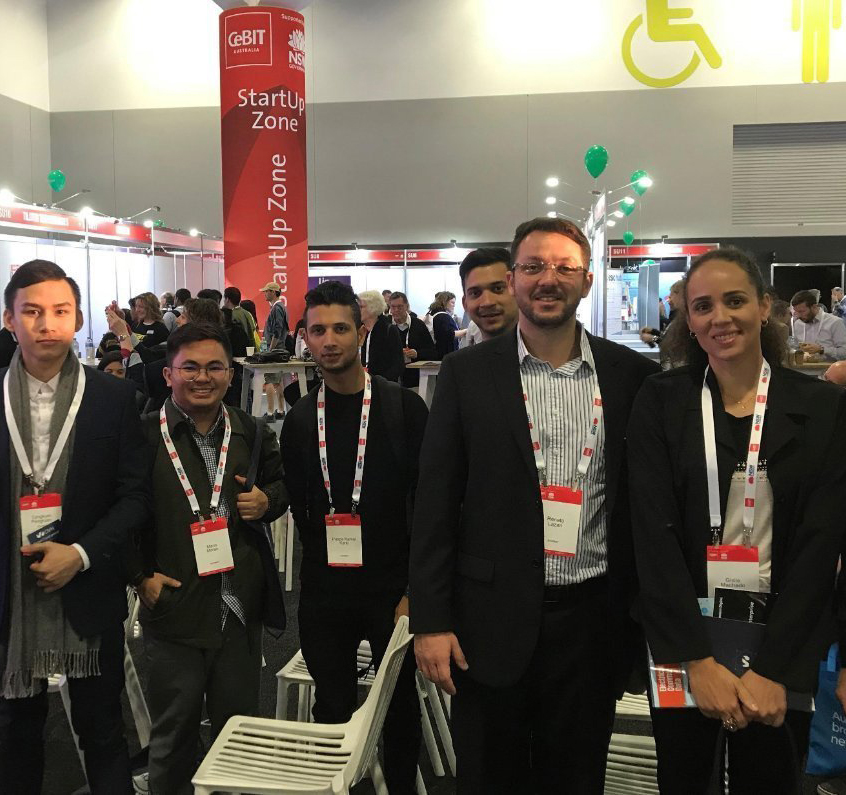 Graduate events
A careers service will have exclusive access to a diverse range of careers events targeted at future graduates across various industries, both on and off-campus.
Additionally, KBS is able to cater to students across its four campuses in Australia. Students can network at events ranging from the Ernst & Young (EY) accounting and consulting graduate employment showcase in Brisbane to the Careers in Financial Planning job expos in Melbourne.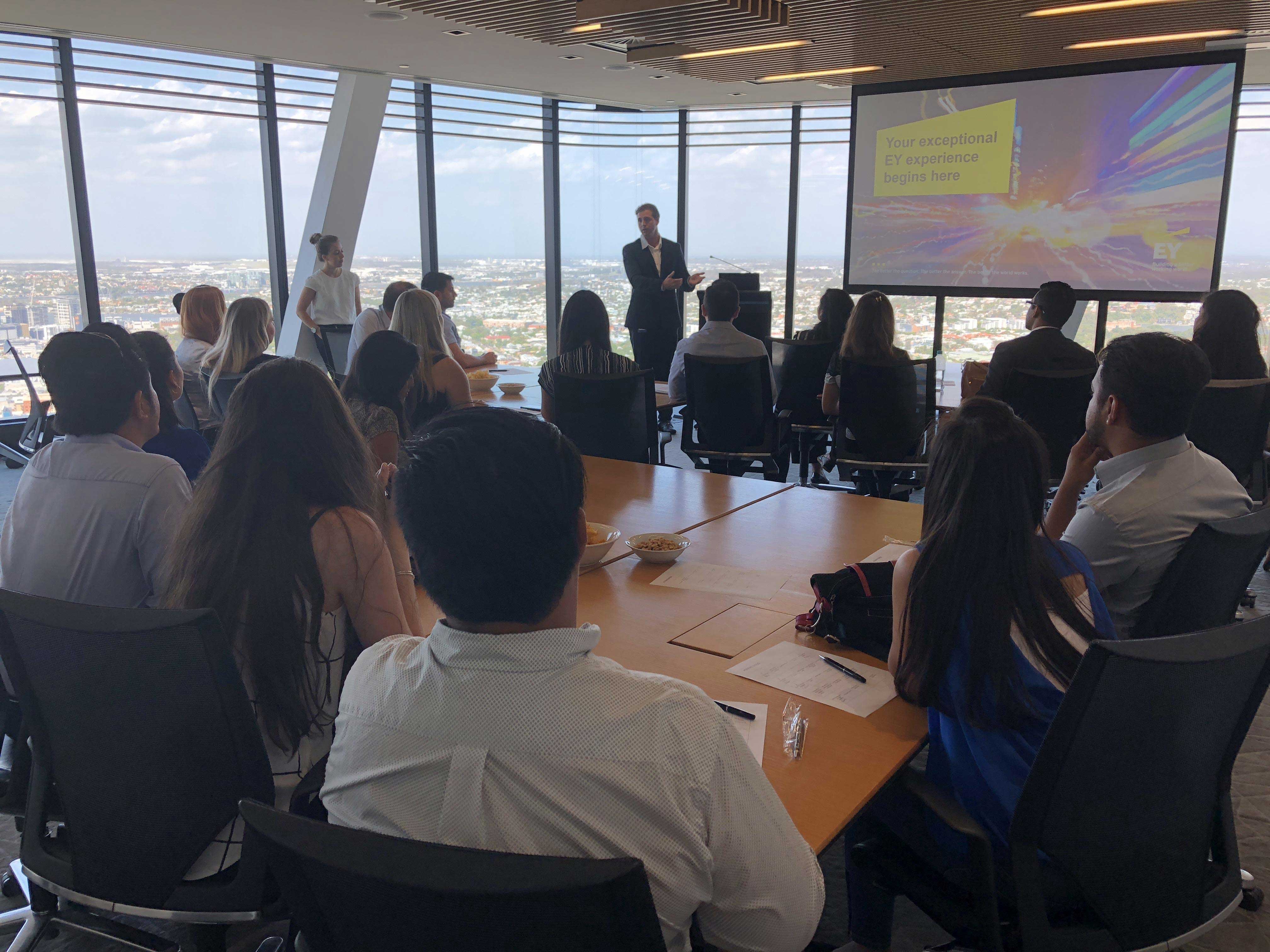 KBS students attending the EY accounting and consulting graduate employment showcase
Networking events via online platforms
There are many workshops and events organised through online platforms. Eventbrite is a great general resource to keep across. You can also find specific platforms for different industries and levels of experience. For example, Giselle attended events through RIBIT, which connects students and businesses.
Meetups
Meetup.com is an online platform that hosts various groups. There are a number of career-focused groups that will allow you to 'meetup' and network face-to-face with people in your industry. Giselle joined several meetups within her sector, including MusesCodeJS, IT.BR, Node Girls and Girl Geek.
Facebook groups
These can be a great networking resource for international students. Giselle found lots of support and networking opportunities via the Brazilian tech community Facebook page, IT.BR, connecting IT professionals in Australia.
2. Preparation is key
There's nothing like feeling prepared to give you the confidence boost to step out of your comfort zone. Here are a few pre-event pointers:
Consider attending your first event with a student who has more experience at networking events. Although you want to make sure you don't stick together for the duration, it can help to see a confident networker in action.
Speak to a career advisor at your school, or a business mentor who can offer valuable tips and advice ahead of the event.
Research the event you're attending so you know what to expect and the type of professionals and businesses you'll be interacting with.
Try to arrive early – this will give you the chance to approach people and introduce yourself before they've had time to form groups.
3. Don't be afraid to speak up!
Keep reminding yourself: people are open to listening to you!
"In my opinion, the main reason that makes business networking vital is visibility. How can people know that you are looking for a job if you don't tell them? They don't know you and what experience you have, so it's up to you to put yourself on their radar." – Giselle Machado
Remember to smile and be yourself. You don't want to come across completely focused on selling yourself; engaging in a conversation is a much more genuine way of making a connection.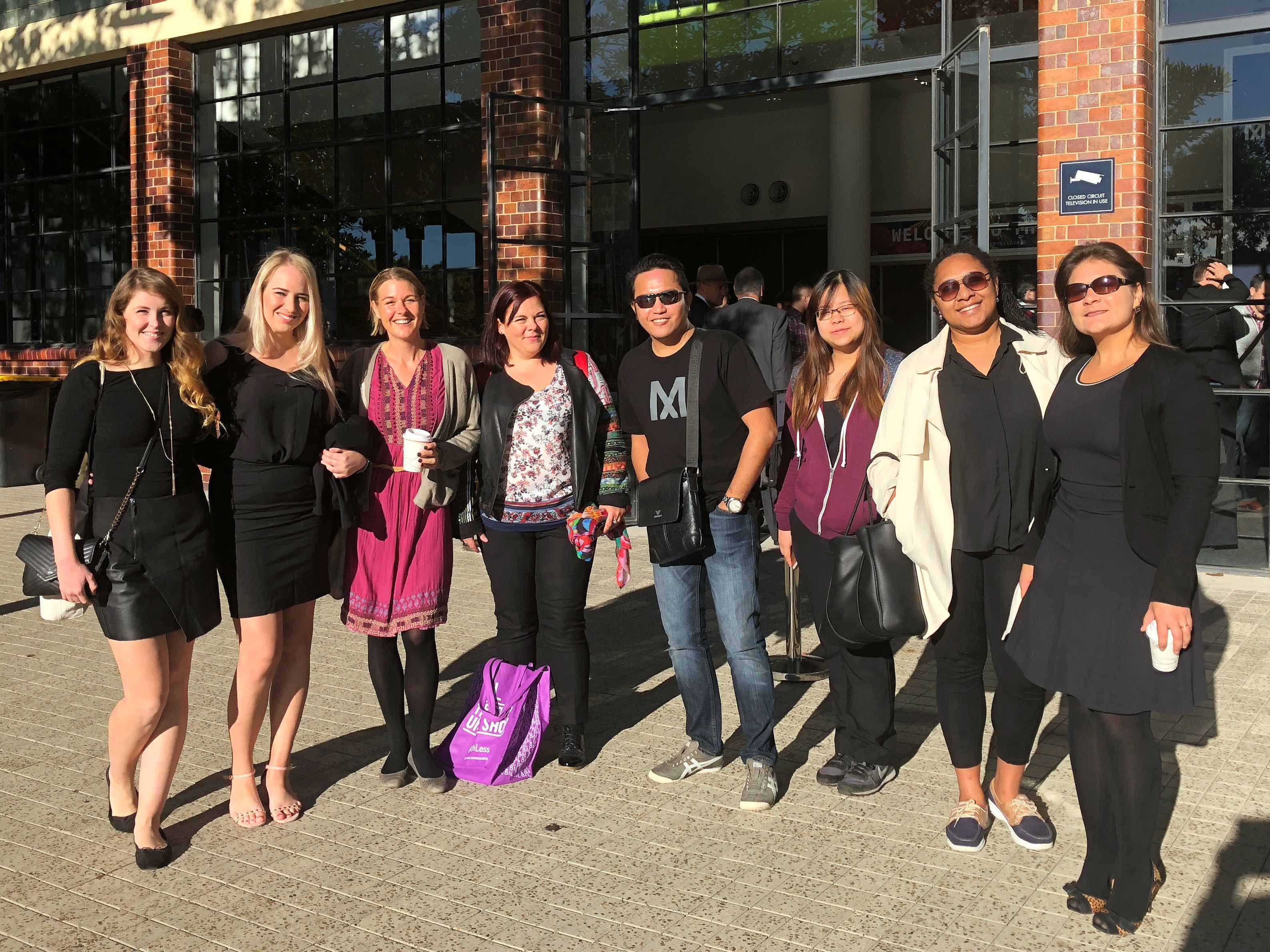 KBS students at the technology and business Myriad summit in Brisbane
4. Challenge yourself with a target
Having a target for a networking event can be a great way to build your confidence and form new relationships.
"Kieran from the Careers Central team at KBS challenged me to make ten new connections during CEBIT 2018. It was motivating to focus on a target. In the end, I not only made ten new connections but also got two interview opportunities during this event!" – Giselle Machado
Your targets should align with the goal you are trying to achieve. They will be very different, for example, if you are hoping to broaden your networking circle versus securing a job interview with a specific company.
5. Follow up on LinkedIn
Business networking shouldn't finish when the event does.
Your end game is to follow up with (and nurture) the new contacts you worked hard to make. Connecting with them on LinkedIn can be a great first step to kick-off future interactions. Giselle worked with Kieran on her LinkedIn profile and after a few weeks of networking at various events, her profile grew from a few hundred to 2,000+ followers.
Giselle Machado / Brazilian
MBA
"I made a connection with a recruiter at the MusesCodeJS event. After talking and adding him to my network on LinkedIn, I was invited to an interview. I went through the entire selection process and was offered the role I'm currently working in."