Why Perth should be your next study destination
Why Perth should be your next study destination
There's never been a better time to explore the possibility of studying to help kickstart, boost or reinvent your career! So, if you're interested in finding the perfect study destination for you, Perth is a city that might just surprise you.
Did you know Perth is already home to over 56,000 students?
We were excited to extend our national footprint to Perth in 2020 with the opening of our fifth Australian campus. By doing so we became the first non-university higher education provider to offer postgraduate business courses to international students in Western Australia's capital city.
Kaplan Business School Perth offers a diverse range of undergraduate and postgraduate business-related degrees, such as its flagship MBA program that contains eight popular specialisations.
But there's so much more to this pretty picture. In recent years Perth's CBD has become a blossoming economic hub with a growing start-up culture. It's well-connected, multicultural, safe, affordable and offers an exciting outdoor lifestyle.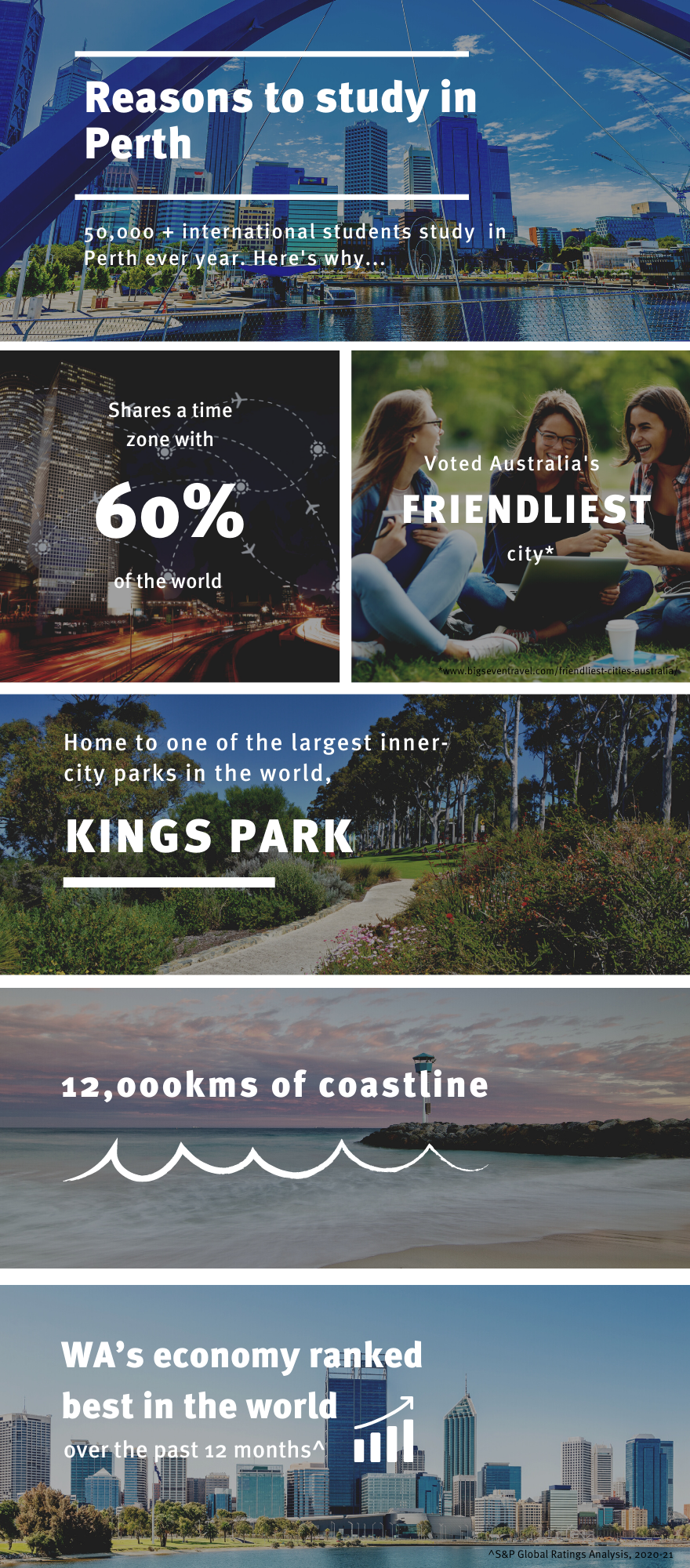 If you're considering a future move to Perth, here are a few reasons that might win you over:
1. Benefit from a growing job market and start-up culture
Perth is leading Australia's economic recovery post-COVID-19. In fact, Western Australia's (WA) economy has been ranked the best in the world over the past 12 months.*
The job market continues to go from strength to strength; 100% of jobs lost in WA during COVID-19 pandemic have now been recovered. **
What's more, the unemployment rate fell to 4.8 % in March 2021 – the lowest of all the states in Australia. Now is the perfect opportunity to make the most of living and working in a city with an economy that has shown real resilience and showing signs of rapid growth.
2. Drive innovation in a thriving start-up environment
As a result of Perth high-tech infrastructure, proximity to Asia, and world-class institutions teaching science and technology development, there's now a thriving start-up economy and a significant growth in shared working spaces in the CBD.
StartupWA estimated in its 2019 ecosystem report there were more than 500 established start-ups operating in WA.
At present, there are now more start-up businesses in WA than ever before. StartupWA is just one new initiative helping innovators to find funding and develop their business projects. West Tech Fest (WTF) is another annual festival celebrating innovation, investment and entrepreneurship in Western Australia and the APAC region.
StartupWA estimated in its 2019 ecosystem report there were more than 500 established start-ups operating in WA.
3. Live and work in close proximity to Asia, Africa and other continents
From Perth, it takes about the same amount of time to fly to Singapore as it does to Sydney!
In fact, Perth shares a time zone with 60% of the world's population.
It's located in the same time-zone as many Asian regions and a direct flight away from a number of capital cities in Asia, Africa, and other parts of the world. This includes great connections to Europe – Perth is currently the only city that offers direct flights to and from London.
The availability of direct flights to cities in Asia is also on the rise, with connections such as Shanghai to Perth currently being trialled.
For some international students, this will mean a shorter flight back home or for friends and family to visit.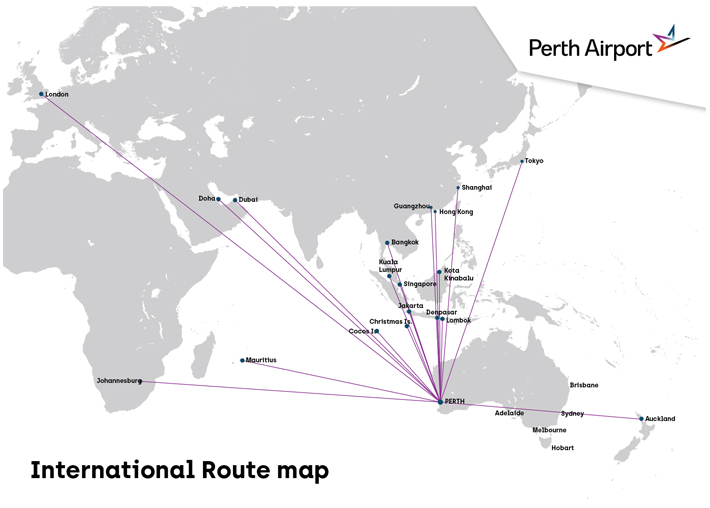 4. Enjoy a lower cost of living
As a student, you're naturally going to be looking at affordability when you choose a place to study.
In Australia, students have the benefit of being able to work 40 hours a fortnight to help with the daily costs of living.
According to the 2020 Real Estate Institute of Australia's Housing Affordability Report, Western Australia is the most affordable state in Australia to rent in. That means more money to spend on fun nights out and weekends away!
In the inner city, you can expect to spend $178 per week on average for a room in a share house (living with professionals or other students), $240 per week for a serviced apartment, or $380 per week for a one-bedroom unit all to yourself (Insider Guides, 2019).
Perth also offers some great discounts for transport. The Tertiary SmartRider card allows students to receive a discount on public transport fares. The Central Area Transit Buses or CAT are free city buses, and you can hop on and off along their routes as much as you like.
5. Feel safe where you study
What will definitely be of reassurance to students is that Perth is a very safe city to live and learn in.
There is an emphasis on safety across the whole public transport system with 24/7 CCTV and emergency help available. Buses will stop anywhere along routes outside the CBD after 7 pm, so you can get off closer to your destination.
All our students at Kaplan Business School also have free access to Sonder; a 24/7 personal safety and wellbeing service accessible on-demand via the Sonder app, phone and in-person.
6. Network and build connections in one of Australia's most international cities
Demographic data shows that only 34.7% of people in Perth were born in Australia. The city features a strong multicultural mix, with England (5.4%), China (4.0%), India (2.6%), New Zealand (2.5%) and Malaysia (2.3%), listed as the most common countries of birth.
It's this diversity that helps provide a warm, welcoming and supportive environment for students. From a regional perspective, Australia's economic integration with Asia will only increase over the next decade, and Perth is uniquely situated to take advantage of this boom.
According to the state's Department of Jobs, Tourism, Science and Innovation, Perth's 650-plus firm headquarters are among the most globally connected in the nation.
Perth not only has the largest concentration of global resources companies in the country, including the likes of BHP Billiton and Rio Tinto, but has also attracted some of the world's highest-profile finance, banking and consultancy firms, including Sachs, KPMG and Deloitte.
This opens plenty of networking, work experience and career opportunities for students in Perth across a range of industries.
Additionally, KBS students are supported through services including Careers Central, which provides access to academic internships, as well as a lifelong alumni program. The dedicated team of Career Advisors have developed an extensive network of employer partnerships in Perth to help students achieve their personal career goals.
According to the state's Department of Jobs, Tourism, Science and Innovation, Perth's 650-plus firm headquarters are among the most globally connected in the nation.
7. Make the most of an outdoor lifestyle
You may have known that it's fairly sunny in Perth, but did you know it averages about eight hours of sunlight per day across the year?
Of course, there are all the incredible beaches for swimming, outdoor barbecues and surfing before class (imagine that!). But did you know that Perth is also a cycling-friendly city? With its flat terrain, good weather and many cycle paths, the city is a great place to get around on a bike.
Perth is also home to Kings Park – one of the world's largest and most beautiful inner-city parks. It's even bigger than Central Park in New York! Two-thirds of this incredible 400-hectare area is taken up with protected native bush and is a haven for native birds.
Here are just a few more ways you can enjoy the great outdoors in Perth:
Rent a surfboard at Scarborough Beach and take some surfing lessons.
Cycle along Perth's Northern Beaches, taking the Marmion to Burns Beach cycle path.
Go snorkelling on the reef at the incredible Mettam's Pool.
Spend a day cycling around the beautiful Perth Hills, visit some waterfalls, and stop at a winery, all along the 41km Railway Reserves Heritage Trail.
Visit the port city of Fremantle with a variety of markets, entertainment and cafes to enjoy on a weekend.
Hop on a ferry ride to Rottnest and enjoy a day exploring the picturesque island.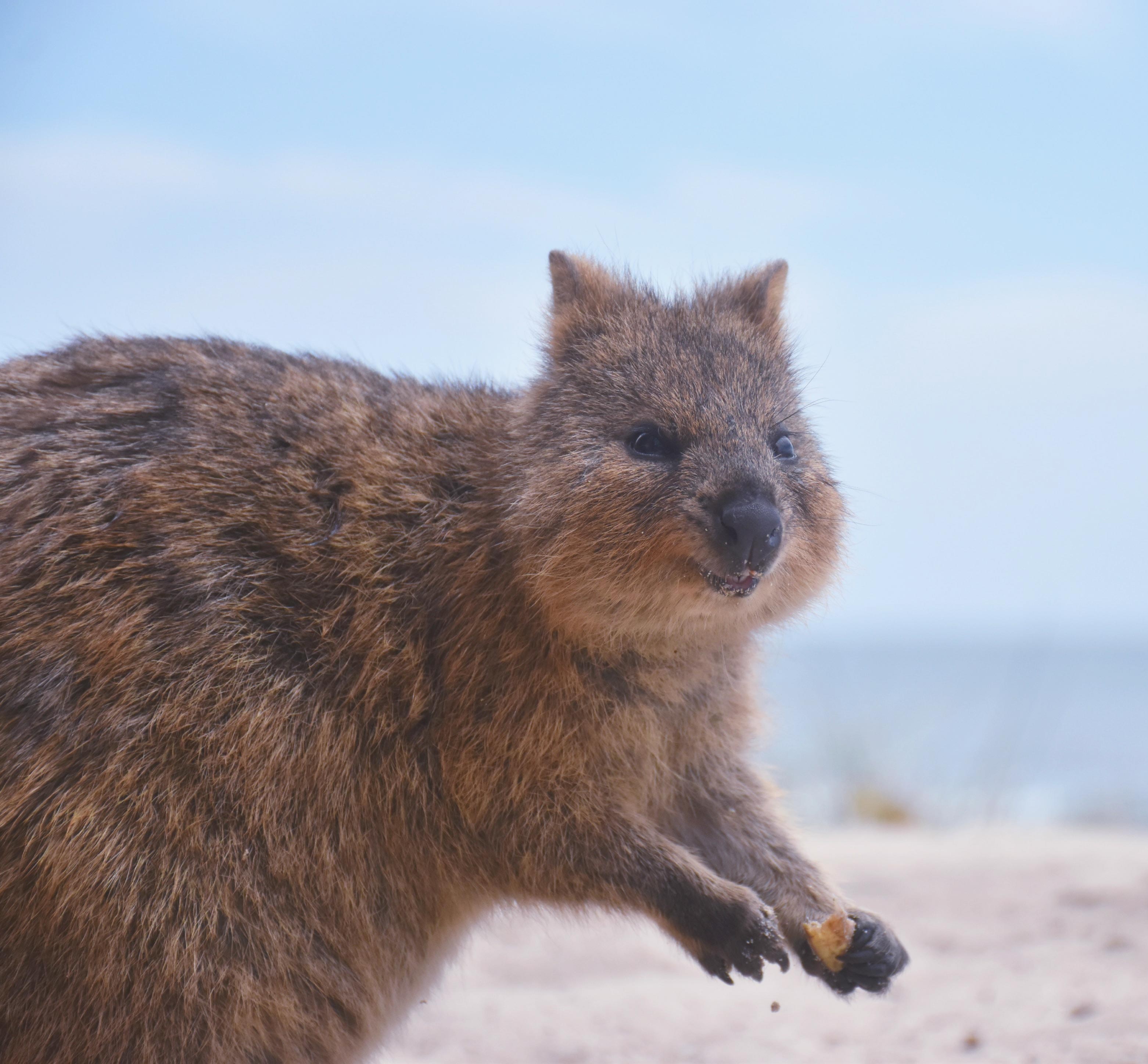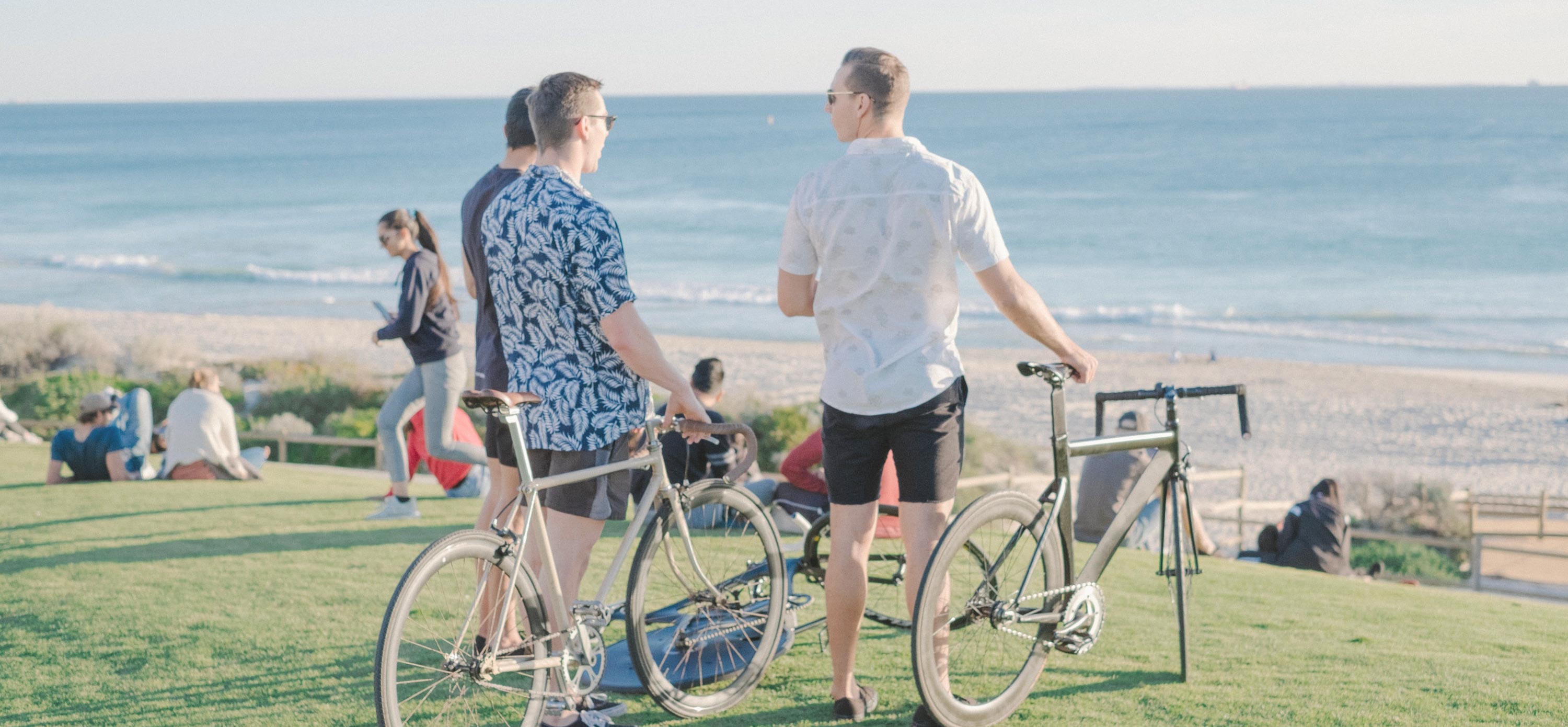 8. Experience rare wildlife encounters
Western Australia covers a land area that's bigger than Germany, France, Portugal, Spain and Italy combined! With relatively low population numbers in such an enormous state, there's a lot of space for wildlife to thrive undisturbed, in the water and on land.
Right in Perth, you'll see Western Grey Kangaroos grazing at a few locations, including Whiteman Park. Plus, Swan River is home to…you guessed it, swans! These black swans are native to the area.
Just south of Perth, there is a whole island of some of the world's smallest penguins. You can also go swimming with wild dolphins and meet the world's largest population of native quokkas (a kind of fluffy native possum) on Rottnest Island.
Every year, whales migrate up the coast right past Perth, and you can go to see them on a whale-watching cruise. The waters of Western Australia are also home to the largest fish in the world. The Whale Shark grows up to 13 meters long and is completely harmless.
Sounds like a study destination you might want to learn more about right? Click here for more information on our new KBS campus location in Perth or our range of MBA or Business Analytics courses!
STUDY ABROAD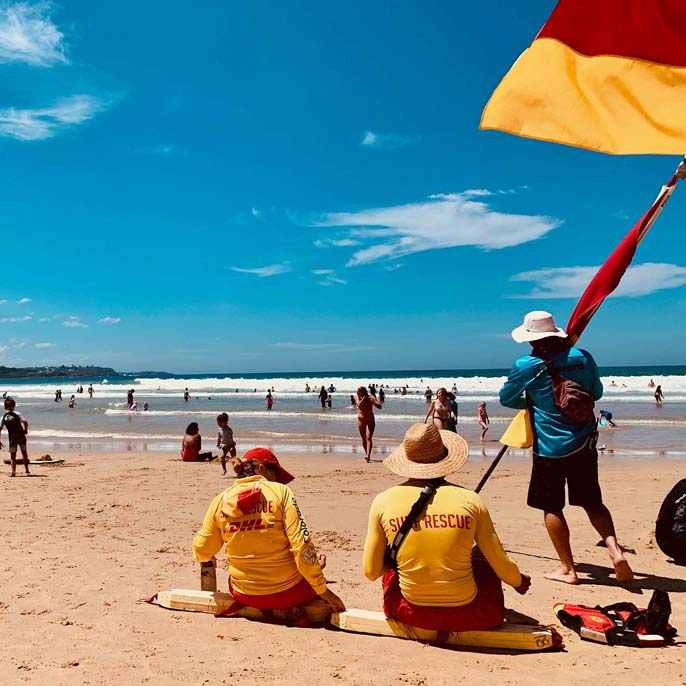 STUDY IN AUSTRALIA