An internship with one of our industry partners can be an invaluable gateway to kickstarting a prosperous career in an industry you're passionate about. We've had countless happy students and graduates find internships and paid positions relevant to their qualification.
PARTNER WITH US
If you are interested in partnering with Kaplan Business School, we would love to hear from you.
Download our Employer Guide to learn about how your organisation can partner with us, including hosting interns or recruiting recent graduates:

With offices in Sydney, Melbourne and Brisbane, and staff of approximately 200, Davidson is one of Australia's largest multi-disciplinary consulting and advisory companies specialising in Workplace Performance.
Rebecca Willis (General Manager — Corporate Brisbane) describes the relationship between Davidson and Kaplan Business School.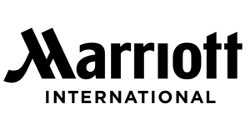 Marriott International is a diversified hospitality company that manages and franchises a broad portfolio of hotels and related lodging facilities. It is an American company headquartered in Bethesda, Maryland.
Sarka Nejedia (Complex Human Resources Coordinator — The Westin Brisbane & Four Points Sheraton) recommends taking on an intern from Kaplan Business School.

MAX Solutions is a national organisation that delivers employment, health and training services, best known for its work as the employment service provider, MAX Employment.
Rosie Sweet (Resource Development Manager — MAX Solutions) found that the enthusiasm and dedication of the student intern from Kaplan Business School was outstanding.
You can find more information about our Academic Internships
here
. For more information about some of our current industry partners, please
contact us
.
* Based on students placed in academic internships between November 2018 and June 2019.